The Last Mrs. Parrish: A Reese's Book Club Pick (Mass Market)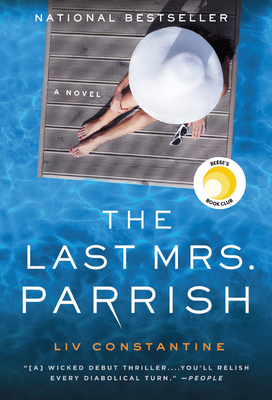 $9.99
Email orders@greenlightbookstore.com for information about this item.
Description
---
A REESE WITHERSPOON HELLO SUNSHINE BOOK CLUB PICK WITH OVER ONE MILLION COPIES SOLD!
"Will keep you up. In a 'can't put it down' way. It's 'The Talented Mr. Ripley' with XX chromosomes." —The Skimm
"Deliciously duplicitous. . . . equally as twisty, spellbinding, and addictive as Gillian Flynn's Gone Girl or Paula Hawkins's The Girl on the Train." —Library Journal (starred review)
A mesmerizing debut about a coolly manipulative woman and a wealthy "golden couple," from a stunning new voice in psychological suspense.
Amber Patterson is fed up. She's tired of being a nobody: a plain, invisible woman who blends into the background. She deserves more—a life of money and power like the one blond-haired, blue-eyed goddess Daphne Parrish takes for granted.
To everyone in the exclusive town of Bishops Harbor, Connecticut, Daphne—a socialite and philanthropist—and her real-estate mogul husband, Jackson, are a couple straight out of a fairy tale.
Amber's envy could eat her alive . . . if she didn't have a plan. Amber uses Daphne's compassion and caring to insinuate herself into the family's life—the first step in a meticulous scheme to undermine her. Before long, Amber is Daphne's closest confidante, traveling to Europe with the Parrishes and their lovely young daughters, and growing closer to Jackson. But a skeleton from her past may undermine everything that Amber has worked towards, and if it is discovered, her well-laid plan may fall to pieces. 
With shocking turns and dark secrets that will keep you guessing until the very end, The Last Mrs. Parrish is a fresh, juicy, and utterly addictive thriller from a diabolically imaginative talent.
About the Author
---
Liv Constantine is the pen name of sisters Lynne Constantine and Valerie Constantine. Together, they are the bestselling author of the Reese Witherspoon Book Club pick The Last Mrs. Parrish, The Last Time I Saw You, The Wife Stalker, and The Stranger in the Mirror. Their books have been praised by USA Today, The Sunday Times, People Magazine, and Good Morning America, among many others. Lynne and Valerie are national and international bestselling authors and their books have been translated into 27 languages, are available in 32 countries and are in development for television and film.  Lynne lives in Milford, Connecticut; Valerie in Annapolis, Maryland.
Praise For…
---
"Filled with envy, deception, and power, it's a great reading escape. And there is a thrilling twist at the end!"  — Reese Witherspoon
"[A] wicked debut thriller… you'll relish every diabolical turn." — People
"Utterly irresistible. . . . The Last Mrs. Parrish pivots on an enormous and satisfying twist. . . . the pages keep flying, flying, flying by." — USA Today
"The Last Mrs. Parrish is an addictive and twisty debut." — Karin Slaughter, New York Times and international bestselling author
"A Gone Girl-esque confection with villainy and melodrama galore." — Kirkus Reviews (starred review)
"'The Last Mrs. Parrish' by Liv Constantine will keep you up. In a 'can't put it down' way. It's 'The Talented Mr. Ripley' with XX chromosomes." — The Skimm
"[A] haunting psychological thriller. . . . Engrossing." — Real Simple
"If you like your thrillers with an unexpected twist, this one's for you." — New York Post
"A bravura performance." — The Sunday Times (UK)
"'The Last Mrs. Parrish' Should Be the Very Next Book You Read." — Huffington Post
"Fabulous. . . . I read this book in a flash, devouring every twisty delicious detail." — Milwaukee Journal-Sentinel
"This deliciously naughty novel of psychological suspense is perfect for fans of Daphne du Maurier, L.S. Hinton and Jessica Knoll."  — LitHub, "5 Crime Must-Reads Coming in October"
"One compulsive read. . . . It's a terrific debut, and I look forward to seeing what the Constantine sisters do next!"   — Book Reporter
"Think: a female Tom Ripley. . . . sisters Lynne and Valerie Constantine, writing as Liv Constantine, build momentum with short, cliffhanger chapters racing toward a satisfying denouement." — Shelf Awareness
"Captivating. . . a deliciously duplicitous psychological thriller that will lure readers until the wee hours and beyond. With a plot equally as twisty, spellbinding, and addictive as Gillian Flynn's Gone Girl or Paula Hawkins's The Girl on the Train, this is sure to be a hit with suspense fans." — Library Journal (starred review)
"The twists keep coming in this psychological roller coaster from debut author Constantine, the pen name of sisters Lynne and Valerie Constantine…this is a satisfying thriller that offers a window into the darker side of glamorous lives and powerful men."
— Booklist
"Wonderfully plausible, hypnotically compelling, and deliciously chilling and creepy—some of the best psychological suspense you'll read this year." — Lee Child, #1 New York Times bestselling author
"A wonderfully clever story, filled with suspense and a shocking twist, that kept me turning the pages."   — Jane Green, New York Times bestselling author of The Sunshine Sisters
"The Last Mrs. Parrish is an extraordinary debut and gripping psychological thriller that is full of unexpected twists. Readers will become obsessed with these chilling characters who pull you in and refuse to let go." — Sara Blaedel, Denmark's award-winning internationally bestselling author of Queen of Crime
"Liv Constantine's The Last Mrs. Parrish is a beautifully constructed set piece, an intricate narrative that doubles back and folds in on itself like a Mobius strip, revealing secret upon secret, and layer upon layer, with a seductive 'just one more chapter' urgency that will keep readers up all night. Giving new meaning to the adage 'be careful what you wish for,' The Last Mrs. Parrish proves that the worst that can happen just might be when you get what you want. Addictive!" — Karen Dionne, author of The Marsh King's Daughter
"Gillian Flynn meets Joy Fielding in Liv Constantine's The Last Mrs. Parrish. In an age of great anti-heroines, comes the most unlikeable one yet, the coldly devilish Amber Patterson. This thriller delivers the most satisfying ending since B.A. Paris' smash hit Behind Closed Doors—and a victorious romp of revenge." — Jenny Milchman, USA Today bestselling author of Cover of Snow, Ruin Falls, and As Night Falls