Collected Fictions (Paperback)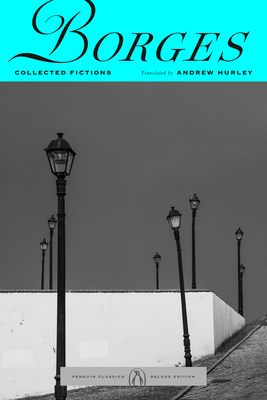 $28.00

Not In Store / Available To Order (allow for shipping time to bookstore or direct-to-home)
Description
---
"An event, and cause for celebration." —The New York Times

For the first time in English, all the fiction by the writer who has been called "the greatest Spanish-language writer of our century" collected in a single volume

A Penguin Classics Deluxe Edition with flaps and deckle-edged paper
 
For some fifty years, in intriguing and ingenious fictions that reimagined the very form of the short story—from his 1935 debut with A Universal History of Iniquity through his immensely influential collections Ficciones and The Aleph, the enigmatic prose poems of The Maker, up to his final work in the 1980s, Shakespeare's Memory—Jorge Luis Borges returned again and again to his celebrated themes: dreams, duels, labyrinths, mirrors, infinite libraries, the manipulations of chance, gauchos, knife fighters, tigers, and the elusive nature of identity itself. Playfully experimenting with ostensibly subliterary genres, he took the detective story and turned it into metaphysics; he took fantasy writing and made it, with its questioning and reinventing of everyday reality, central to the craft of fiction; he took the literary essay and put it to use reviewing wholly imaginary books.

Bringing together for the first time in English all of Borges's magical stories, and all of them newly rendered into English in brilliant translations by Andrew Hurley, Collected Fictions is the perfect one-volume compendium for all who have long loved Borges, and a superb introduction to the master's work for all who have yet to discover this singular genius.

For more than seventy-five years, Penguin has been the leading publisher of classic literature in the English-speaking world. With more than 2,000 titles, Penguin Classics represents a global bookshelf of the best works throughout history and across genres and disciplines. Readers trust the series to provide authoritative texts enhanced by introductions and notes by distinguished scholars and contemporary authors, as well as up-to-date translations by award-winning translators.
About the Author
---
Jorge Luis Borges was born in Buenos Aires in 1989 and was educated in Europe. One of the most widely acclaimed writers of our time, he published many collections of poems, essays, and short stories before his death in Geneva in June 1986. In 1961 Borges shared the International Publisher's prize with Samuel Beckett. The Ingram Merrill Foundation granted him its Annual Literary Award in 1966 for his "outstanding contribution to literature." In 1971 Columbia University awarded him the first of many degrees of Doctor of Letters, honoris causa (eventually the list included both Oxford and Cambridge), that he was to receive from the English-speaking world. In 1971 he also received the fifth biennial Jerusalem Prize and in 1973 was given one of Mexico's most prestigious cultural awards, the Alfonso Reyes Prize. In 1980 he shared with Gerardo Diego the Cervantes Prize, the Spanish world's highest literary accolade. Borges was Director of the Argentine National Library from 1955 until 1973. 

Andrew Hurley (editor/translator) is a translator of numerous works of literature, criticism, history, and memoir. He is professor emeritus at the University of Puerto Rico.


Praise For…
---
A New York Times Notable Book
 
"A marvelous new collection of stories by one of the most remarkable writers of our century." —The New York Times

"The major work of probably the most influential Latin American writer of the century." —The Washington Post

"An unparalleled treasury of marvels . . . Along with a tiny cohort of peers, and seers (Kafka and Joyce come to mind), Borges is more than a stunning storyteller and a brilliant stylist; he's a mirror who reflects the spirit of his time." —Chicago Tribune

"This book is a real feast, prepared by one of the greatest modern confectioners of sheer fiction." —The Seattle Times

"An event worth of celebration . . . Hurley deserves our enthusiastic praise for this monumental piece of work." —San Francisco Chronicle

"Beneath Borges's paradoxical twists and inverted spells there is the deeper, ineffably human magic of all great literature." —Los Angeles Times

"Borges is the most important Spanish-language writer since Cervantes. . . . To have denied him the Nobel Prize is as bad as the case of Joyce, Proust, and Kafka." —Mario Vargas Llosa

"Though so different in style, two writers have offered us an image for the next millennium: Joyce and Borges. The first designed with words what the second designed with ideas: the original, the one and only World Wide Web. The Real Thing. The rest will remain simply virtual." —Umberto Eco

"It is a deep pleasure to read the Collected Fictions of Borges in Andrew Hurley's capable new version. Old favorites like 'Death and the Compass' and 'The Immortal' are revivified by Hurley. There is also a particular satisfaction in having all of the stories in one volume." —Harold Bloom

"What are we to make of him? The economy of his prose, the tact of his imagery, the courage of his thought are there to be admired and emulated. In resounding the note of the marvelous last struck in English by Wells and Chesterton, in permitting infinity to enter and distort his imagination, he has lifted fiction away from the flat earth where most of our novels and short stories still take place." —John Updike

"When I read a good book, I sometimes like to think I might be capable of writing something similar, but never, in my wildest dreams, could I write anything that approaches the level of cleverness and intellect and madness of Borges. I don't think anyone could." —Daniel Radcliffe