Stringbean: The Life and Murder of a Country Legend (Music in American Life) (Paperback)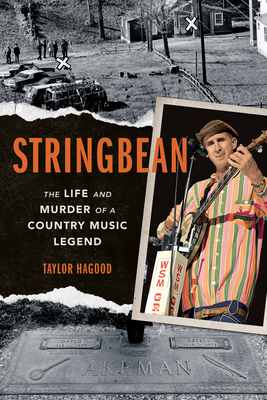 $19.95

Not In Store / Available To Order (allow for shipping time to bookstore or direct-to-home)
Description
---
The artist's impact on country music and how his death changed the genre
A beloved member of the country music community, David "Stringbean" Akeman found nationwide fame as a cast member of Hee Haw. The 1973 murder of Stringbean and his wife forever changed Nashville's sense of itself. Millions of others mourned not only the slain couple but the passing of the way of life that country music had long represented.
Taylor Hagood merges the story of Stringbean's life with an account of murder and courtroom drama. Mentored by Uncle Dave Macon and Bill Monroe, Stringbean was a bridge to country's early days. His instrumental savvy and old-time singing style drew upon a deep love for traditional country music that, along with his humor and humanity, won him the reverence of younger artists and made his violent death all the more shocking. Hagood delves into the unexpected questions and uneasy resolutions raised by the atmosphere of retribution surrounding the murder trial and recounts the redemption story that followed decades later.
About the Author
---
Taylor Hagood is a professor in the department of English at Florida Atlantic University. His books include Faulkner, Writer of Disability and Secrecy, Magic, and the One-Act Plays of Harlem Renaissance Women Writers.
Praise For…
---
"The story about the life of the man and the details of his life's tragic end is expertly covered in this new book. . . . After reading this book, I feel as though I got to know David "Stringbean" Akeman and his story very well. Highly recommended!" --Dan Miller,
Bluegrass Unlimited
"Stringbean was one of the very first friends Doolittle, my husband, and I made when we first came to Nashville in 1960. He and his wife Estelle were some of the nicest folks you could find anywhere. . . . It was heartbreaking when we lost him and his wife."--Loretta Lynn
"Stringbean and Estelle would be like your favorite aunt and uncle, or your favorite cousin. Any time we had a celebration, they were always there, and most of the time cooked for everybody. Those were precious times."--Lulu Roman,
Hee Haw
star
"This tale will appeal to readers curious about the formative years of the United States' country-music scene." --
Library Journal
"Get your orders in! You will like this book. Thanks, Taylor Hagood, for filling in so many blanks, even those you filled in from your remote closeness to the gentle and genuine spirit of Stringbean. Stringbean is still a vital part of our music.
Stringbean
shows us that." --
Bluegrass Standard
"
Stringbean: The Life and Murder of a Country Legend
by Talyor Hagood, not only serves to remind and establish Stringbean's often overlooked musical legacy, but also serves as a true crime thriller with a highly detailed account of the murder and ensuing trial. Hagood expertly details Stringbean's long career and gives new meaning to both him and his music." --
Americana UK
"Hagood, who writes with an appealingly loose and earnest style, has genuine affection for Stringbean. Perhaps the most moving passages are those in which Hagood reflects on the symbiotic relationship between the man and his trusty Vega No. 9 Tubaphone banjo. " --
NewCity
"Almost as soon as I picked up Taylor Hagood's biography of David Akeman, I knew I could put aside my instinct to find fault in order to luxuriate in a well-documented, carefully constructed combination of biography and true crime story. . . . I highly recommend this well-researched and highly readable book." --Ted Lehmann
"It was always a rare treat to get to see the hat flipping, banjo picking man from ole Kentucky on the television or old video tape. Stringbean was one of my first musical heroes as a kid while learning to play the banjo. I'm very excited to get this book! I can never get enough of Ole String! Thank you, Taylor!"--Leroy Troy, Grand Ole Opry star and 1996 National Old-Time Banjo Champion
"Taylor Hagood is a gifted writer, and I'm truly pleased with the book he wrote about my uncle, David Akemon."--Phillip Akemon