El amor en los tiempos del cólera / Love in the Time of Cholera (Paperback)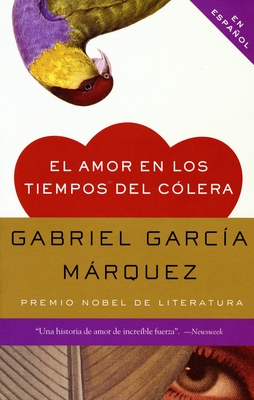 $16.00

Available In Store Now (while supplies last)
Description
---
García Márquez traza la historia de un amor que no ha sido correspondido por medio siglo. Aunque nunca parece estar propiamente contenido, el amor fluye a través de la novela de mil maneras: alegre, melancólico, enriquecedor, siempre sorprendente.

La historia de amor entre Fermina Daza y Florentino Ariza, en el escenario de un pueblecito portuario del Caribe y a lo largo de más de 60 años, podría parecer un melodrama de amantes contrariados que al final vencen por la gracia del tiempo y la fuerza de sus propios sentimientos, ya que García Márquez se complace en utilizar los más clásicos recursos de los folletines tradiciones. Pero este tiempo - por una vez sucesivo, y no circular - este escenario y estos personajes son como una mezcla tropical de plantas y arcilla que la mano del maestro moldea y con las que fantasea a su placer, para al final ir a desembocar en los territorios del mito y la leyenda. Los jugos, olores y sabores del trópico alimentan una prosa alucinatoria que en esta ocasión llega al puerto oscilante del final feliz.

"Era inevitable: el olor de las almendras amargas le recordaba siempre el destino de los amores contrariados. El doctor Juvenal Urbino lo percibió desde que entró en la casa todavía en penumbras, adonde había acudido de urgencia a ocuparse de un caso que para él había dejado de ser urgente desde hacía muchos años. El refugiado antillano Jeremiah de Saint-Amour, inválido de guerra, fotógrafo de niños y su adversario de ajedrez más compasivo, se había puesto a salvo de los tormentos de la memoria con un sahumerio de cianuro de oro. Encontró el cadáver cubierto con una manta en el catre de campaña donde había dormido siempre, cerca de un taburete con la cubeta que había servido para vaporizar el veneno."

La crítica dijo:
"La voz garciamarquiana alcanza aquí un nivel en el que resulta a la vez clásica y coloquial, opalescente y pura, capaz de alabar y maldecir, de reír y llorar, de fabular y cantar, de despegar y volar cuando es necesario." (Thomas Pynchon, The New York Times)
ENGLISH DESCRIPTION
From the Nobel Prize-winning author of 
One Hundred Years of Solitude
 comes a masterly evocation of an unrequited passion so strong that it binds two people's lives together for more than half a century.
In their youth, Florentino Ariza and Fermina Daza fall passionately in love. When Fermina eventually chooses to marry a wealthy, well-born doctor, Florentino is devastated, but he is a romantic. As he rises in his business career, he whiles away the years in 622 affairs - yet he reserves his heart for Fermina. Her husband dies at last, and Florentino purposefully attends the funeral. Fifty years, nine months, and four days after he first declared his love for Fermina, he does so again.
With humorous sagacity and consummate craft, Gabriel García Márquez traces an exceptional half-century of unrequited love. Though it seems never to be conveniently contained, love flows through the novel in many wonderful guises - joyful, melancholy, enriching, and ever surprising.
About the Author
---
Gabriel García Márquez, nacido en Colombia, fue una de las figuras más importantes e influyentes de la literatura universal. Ganador del Premio Nobel de Literatura, fue además cuentista, ensayista, crítico cinematográfico, autor de guiones y, sobre todo, intelectual comprometido con los grandes problemas de nuestro tiempo, en primer término con los que afectaban a su amada Colombia y a Hispanoamérica en general. Máxima figura del realismo mágico, fue en definitiva el hacedor de uno de los mundos narrativos más densos de significados que ha dado la lengua española en el siglo xx. Entre sus obras más importantes se encuentran las novelas Cien años de soledad, El coronel no tiene quien le escriba, Crónica de una muerte anunciada, La mala hora, El general en su laberinto, El amor en los tiempos del cólera, Memoria de mis putas tristes, el libro de relatos Doce cuentos peregrinos, la primera parte de su autobiografía, Vivir para contarla, y sus discursos reunidos, Yo no vengo a decir un discurso. Falleció en 2014.
Praise For…
---
"Una historia de amor de increíble fuerza". --Newsweek

"Una novela rica y expansiva cuyo poder narrativo sólo compite con la generosidad de su visión". --The New York Times

"Una gran historia humana, despreocupada del tiempo, contada por uno de los más evocadores escritores de este siglo". --Anne Tyler, Chicago Sun-Times Book Week

"Un libro brillante y desgarrador". --The New York Times Book Review