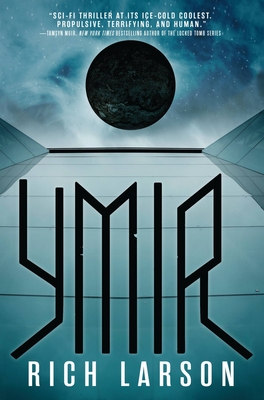 $17.99

Not In Store / Available To Order (allow for shipping time to bookstore or direct-to-home)
Other Books in Series
This is book number 2 in the The Violet Wars series.
Description
---
"Phenomenal, visceral, high-octane scifi... Altered Carbon unsleeves in a dystopian Beowulf."―Derek Künsken, Aurora-award-winning author of The Quantum Magician

As glittering and treacherous as an icy cavern, Rich Larson's far-future tale of revenge and revolution is a gripping thriller, perfect for fans of Richard K. Morgan and inspired by the legendary story of Beowulf.   Yorick never wanted to see his homeworld again. He left Ymir two decades ago, with half his face blown off and no love lost for the place. But when his employer's mines are threatened by a vicious alien machine, Yorick is shipped back home to hunt it.

All he wants is to do his job and get out. Instead, Yorick is pulled into a revolution brewing beneath Ymir's frozen surface, led by the very last person he wanted to see again—the brother who sent him off in pieces twenty years ago..
About the Author
---
Rich Larson was born in Galmi, Niger, has lived in Spain and Czech Republic, and currently writes from Grande Prairie, Canada. He is the author of the novels Ymir and Annex, as well as over 150 short stories—some the best of which can be found in the collection Tomorrow Factory.
His fiction has appeared in over a dozen languages, including Polish, Italian, Romanian, and Japanese, and his translated collection La Fabrique des lendemains won the 2020 Grand Prix de L'Imaginaire. His first screen adaptation, Ice, won the 2021 Emmy Award for Outstanding Short Form Animated Program.
Find free reads and support his work at patreon.com/richlarson.
Praise For…
---
"An astonishing SF thriller with whiplash surprises and an ending that resonates…Ymir gets all over you and won't come off."—James Patrick Kelly, winner of the Hugo, Nebula and Locus awards

"Larson is a writer who can do just about anything, and in his second novel he splices Iain M. Banks with Alastair Reynolds…This is brain-busting sci-fi for the hardcore crowd."—Nick Wolven, author of "Snowflake"

"Original, unpredictable, and starkly beautiful. A screaming dirge of a story."—Ted Kosmatka, author of The Flicker Men

"Cyberpunk as fuck…I loved every gritty, punishing page of it."—Tim Miller, director of LOVE DEATH + ROBOTS and Deadpool

"Endlessly inventive, richly textured, and pricked with poignant beauty. If Alien met Neuromancer, and the mutant progeny was birthed in the amniotic fluid of pure myth, Ymir would be the result."—Alvaro Zinos-Amaro, Hugo and Locus finalist

"[Ymir] hurtles forward at dizzying speeds on an engine of jagged gorgeous writing. I adored Yorick, with his broken heart and his bad attitude and worse decisions...I ached with every twist and turn of his hideous beautiful journey."
-Sam J Miller, Nebula-award-winning author of Blackfish City—Sam J. Miller, Nebula award-winning author of Blackfish City

"Phenomenal, visceral, high-octane scifi... Altered Carbon unsleeves in a dystopian Beowulf."—Derek Künsken, Aurora-award-winning author of The Quantum Magician

"Icy, dangerous, yet darkly hopeful. An exhilarating journey that left me awed."—Hugo finalist Sheree Renée Thomas, author of Nine Bar Blues: Stories from an Ancient Future

"Sci-fi thriller at its ice-cold coolest... Propulsive, terrifying, and human."—Tamsyn Muir, New York Times best-selling author of the Locked Tomb series