The Body Scout: A Novel (Hardcover)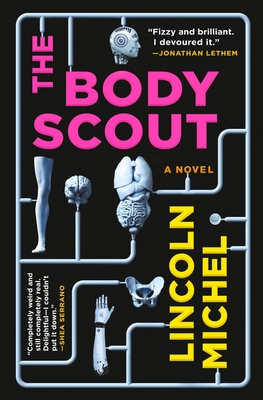 Description
---
In this "timeless and original" sci-fi thriller (New York Times), a hardboiled baseball scout must solve the murder of his brother in a world transformed by body modification, perfect for readers of William Gibson and Max Barry.

An Esquire Pick for the Top 50 Sci-Fi Books of All Time

A New York Times Best Sci-Fi and Fantasy Novel of 2021

"A breathlessly paced techno-thriller characterized by stunning, spiky worldbuilding." — Esquire
In the future you can have any body you want—as long as you can afford it.
But in a New York ravaged by climate change and repeat pandemics, Kobo is barely scraping by. He scouts the latest in gene-edited talent for Big Pharma-owned baseball teams, but his own cybernetics are a decade out of date and twin sister loan sharks are banging down his door. Things couldn't get much worse.
Then his brother—Monsanto Mets slugger J.J. Zunz—is murdered at home plate.
Determined to find the killer, Kobo plunges into a world of genetically modified CEOs, philosophical Neanderthals, and back-alley body modification, only to quickly find he's in a game far bigger and more corrupt than he imagined. To keep himself together while the world is falling apart, he'll have to navigate a time where both body and soul are sold to the highest bidder.
Diamond-sharp and savagely wry, The Body Scout is a timely science fiction thriller debut set in an all-too-possible future.
"I devoured it." —Jonathan Lethem
"Completely weird and still completely real. Delightful—I couldn't put it down."—Shea Serrano
About the Author
---
Lincoln Michel is the author of the story collection Upright Beasts (Coffee House Press, 2015), which was named a best book of the year by Buzzfeed and reviewed in the New York Times; Vanity Fair; O, The Oprah Magazine; Tor.com and elsewhere. His fiction and poetry appear in The Paris Review, Granta, Tin House, Strange Horizons, Vice's Motherboard, and the Pushcart Prize anthology. His essays and criticism have been published by The New York Times, GQ, Rolling Stone, and The Guardian. He is the former editor-in-chief of Electric Literature. He is the co-editor of the science fiction anthology Gigantic Worlds (Gigantic Books 2015), the flash noir anthology Tiny Crimes (Catapult, 2018), and the forthcoming horror anthology Tiny Nightmares (Catapult, 2020). He teaches speculative fiction writing in the MFA programs at Sarah Lawrence College and Columbia University.
Praise For…
---
"Blends noir, cyberpunk, and sports into something at once timeless and original...Michel's writing is beautiful, too, breathing sophisticated life into stock genre types, and illuminating vast tracks of story with casual wrist-flicks of world building. The Body Scout is a wild ride, sad and funny, surreal and intelligent."—Amal El-Mohtar, The New York Times

"Lincoln Michel's debut is a darkly comic, propulsive science fiction thriller.  We are all cyborgs now, so the connections here are clear and on point.  Play ball!"—Kim Stanley Robinson, New York Times bestselling author of The Ministry of the Future

This novel is delightful in its brio and sharp as a tack in its inventiveness—and yet its greatest, most poignant gift is in asking: What does it mean to inhabit a body? A superb read.—Esmé Weijun Wang, Whiting-Award-winning author of The Collected Schizophrenias

"The Body Scout is the kind of wild, inventive adventure that i'd been searching for. It scratched a special itch: sly and smart, weird and wonderful, all in one package. A little bit Philip K. Dick, and I detect hints of Julio Cortazar too. Lincoln Michel is a wildly talented author and this novel is something special indeed."—Victor LaValle, author of The Changeling

"A classing cyberpunk noir with a twist of fresh modern relevance."—BoingBoing

"The Body Scout is a fizzy and brilliant confabulation, an anticorporate extrapolative throwdown that is equal parts Pohl-and-Kornbluth and George Saunders, with loads of heart, a skewed and hilarious language all its own, and the audacity to propose that the New York Mets could win a World Series by competent skullduggery. I devoured it."
 —Jonathan Lethem, award-winning author of Motherless Brooklyn

 
"Completely weird and still completely real. Delightful—I couldn't put it down."
 —Shea Serrano, #1 New York Times bestselling author of Basketball (And Other Things)

"A delirious, thrilling ride. I loved Kobo and his bad habits and broken heart, and his world is so weird and wonderful and packed with eye-popping tech that it's easy to miss how much it has to say about our own."
 —Sam J Miller, Nebula-Award-winning author of Blackfish City

"The Body Scout is like a sci-fi detective novel that a sci-fi detective would write. Like the hybrids and cyborgs who fill this book, Lincoln Michel has the restless brain of Philip K. Dick, the bloodshot eyes of David Cronenberg, the tongue of William Gibson, and a beating heart ripped straight from Raymond Chandler's chest."
 —Tony Tulathimutte, Whiting-Award-winning author of Private Citizen

"The Body Scout is the best kind of cautionary tale, with urgent things to say about evolution, health care, and human nature. This is a story populated by fantastic characters and worldbuilding, but most importantly: it's a hell of a lot of fun to read."
 —Rob Hart, author of The Warehouse

"A wonderfully entertaining and disquieting jaunt through a world both old and new."—Alice Sola Kim, Whiting-Award-winner

"A mashup of cyberpunk, noir detective novel, and literary fiction centered on the premise of what it means to be human, and well worth the advance buzz it has already received."—Brooklyn Rail

"Mesmerizing..offers a compelling vision of tomorrow along with a haunting question: where would you find yourself if you lived in this world?"—Tor.com

"Interweaves world building with plot so seamlessly that the rapid-fire pace never feels bogged down by exposition...Michel is having an enormous amount of fun in his sandbox, creating worlds with an equal measure of hard-won skill and a sense of spirited, mischievous play."—Chicago Review of Books

"A sci-fi noir with rich, earnest character development..a refreshing and assuredly unique work...As in many great noir and literary stories alike, The Body Scout's perspective is world-weary, and yet the book betrays Michel's essential optimism: books can still be odd, adventure can still be smart, and, in a culture that has trained us toward the familiar, there are still readers out there hoping for something new."—BOMB Magazine