Franny and Zooey (Mass Market)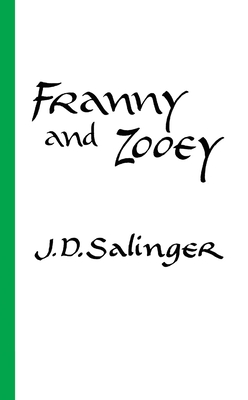 $9.99

Available In Store Now (while supplies last)
Description
---
"Perhaps the best book by the foremost stylist of his generation" (New York Times), J. D. Salinger's Franny and Zooey collects two works of fiction about the Glass family originally published in The New Yorker.
"Everything everybody does is so--I don't know--not wrong, or even mean, or even stupid necessarily. But just so tiny and meaningless and--sad-making. And the worst part is, if you go bohemian or something crazy like that, you're conforming just as much only in a different way."
A novel in two halves, Franny and Zooey brilliantly captures the emotional strains and traumas of entering adulthood. It is a gleaming example of the wit, precision, and poignancy that have made J. D. Salinger one of America's most beloved writers.

About the Author
---
J. D. Salinger was born in New York City on January 1, 1919, and died in Cornish, New Hampshire, on January 27, 2010. His stories appeared in many magazines, most notably The New Yorker. Between 1951 and 1963 he produced four book-length works of fiction: The Catcher in the Rye; Nine Stories; Franny and Zooey; and Raise High the Roof Beam, Carpenters and Seymour--An Introduction. The books have been embraced and celebrated throughout the world and have been credited with instilling in many a lifelong love of reading.
Praise For…
---
"Brilliant...What makes reading Salinger such a consistently bracing experience is our sense of always being in the presence of something that--whatever it is--isn't fishy."
—Janet Malcolm, New York Review of Books

"You can see Salinger's increasing mastery on page after page...If the world survives, as it shows a magnificently stubborn intention of doing, Mr. Salinger's stories will decidedly continue to widen the range of contemporary reading."
—Charles Poore, New York Times

"Franny and Zooey is one of the few books that I've returned to every year...I love it for its comedy--Salinger's dialogue is wonderful--for its mocking fondness, and as a portrait of a troubled, loving family. I still treasure it and I don't think I've read anything since that has affected me and inspired me as much, both as a reader and a writer."
—David Nicholls, The Guardian

"Both stories are early, critical entries in a narrative series I'm doing about a family of settlers in twentieth-century New York, the Glasses...I love working on these Glass stories, I've been waiting for them most of my life."
—J. D. Salinger