The Great Mistake: A novel (Paperback)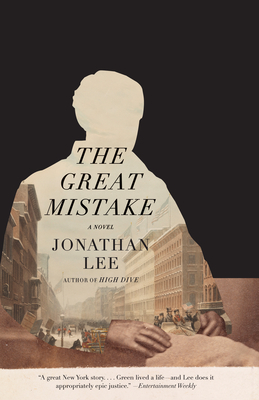 $17.00
Email orders@greenlightbookstore.com for information about this item.
Description
---
An exultant novel of New York City at the turn of the twentieth century, about one man's rise to fame and fortune, and his mysterious murder—"engrossing" (Wall Street Journal), "immersive" (The New Yorker), and "seriously entertaining" (The Sunday Times, London).

Andrew Haswell Green is dead, shot at the venerable age of eighty-three, when he thought life could hold no more surprises. The killing—on Park Avenue in broad daylight, on Friday the thirteenth—shook the city.

Born to a struggling farmer, Green was a self-made man without whom there would be no Central Park, no Metropolitan Museum of Art, no Museum of Natural History, no New York Public Library. But Green had a secret, a life locked within him that now, in the hour of his death, may finally break free.

A work of tremendous depth and piercing emotion, The Great Mistake is the story of a city transformed, a murder that made a private man infamous, and a portrait of a singular individual who found the world closed off to him—yet enlarged it.
About the Author
---
JONATHAN LEE is the author of three novels, most recently High Dive, which was a best book of the year in publications including The New York Times, The Guardian, The Wall Street Journal, The Washington Post, and San Francisco Chronicle. He is the editor-in-chief of indie publisher Catapult. He lives in New York.

Praise For…
---
ONE OF THE BEST BOOKS OF THE YEAR: The Guardian, LitHub • ONE OF CRIMEREADS' BEST HISTORICAL NOVELS OF THE YEAR • A Best Book of Summer: Entertainment Weekly, Oprah Quarterly, Vulture, Town & Country, Refinery29

"Moving . . . Subtle . . . Vibrant . . . Has precise emotional contours . . . The book's accomplishment is less in making us 'see' Green, like some kind of historical hologram, than in making us inhabit him . . . Reminiscent of a nostalgic character in a William Maxwell novel."—John Williams, New York Times

"Finely drawn . . . Jonathan Lee's intriguing novel has all the ingredients of a whodunit, but he's more interested in the personal mysteries of the man who opened up the city 'while keeping himself closed.'"—Alida Becker, New York Times Book Review

"The Great Mistake is a great New York story...Green lived a life—and Lee does it appropriately epic justice." —Entertainment Weekly

"So polished and vivid...Lee has given his subject a prose memorial with a beating heart and superb mind, something worthy at last of a complicated man whose vision far exceeded his fame." —Los Angeles Times

"An immersive bildungsroman." —The New Yorker

"The best American novel of the year...A book of extraordinary intelligence and style...It's as if Lee has distilled more than a century of American letters into a single book. There's Fitzgerald, of course. There's Hemingway in the muscular lyricism of the prose; Sherwood Anderson and Steinbeck in the beautifully drawn portraits of rural America; there's the restraint of Henry James in the sinuous sentences." —The Guardian

"Engrossing . . . Genuinely impressive...Lee is an excellent sketcher of character, setter of scene, and weaver of research . . . None of Lee's sentences is soulless. They brim with life and music and filigree-fine craft." —The Wall Street Journal

"A beautifully rendered fictional portrait of this most complex and contradictory of men . . . Lee intersperses fact and fiction to masterful effect . . . The Great Mistake is both a page-turning murder mystery and a taut psychological study of a genius lost to history."—David Goodwillie, Interview

"Impeccably written . . . Jonathan Lee writes engrossing novels about public tragedies and private dilemmas, fusing vivid character studies with understated humor and aphoristic turns of phrase. [His] latest is further confirmation that he's among the best writers working today." —Minneapolis Star Tribune
 
"Seriously entertaining . . . Ingenious . . . I wish there were more novels like it." —The Sunday Times (London)

"Unforgettable...It would be easy to recommend The Great Mistake for its confident, well-researched, and impeccably crafted take on a singular individual who had so much to do with the creation of New York City as we know it. But you should really read this book for Lee's exquisite prose, his poetic shadings of a life and a time in which so much was possible." —Chicago Review of Books

"Just finished The Great Mistake. It is, I think, the most underdiscussed novel of the summer, just gorgeous in every way. Melancholy. Witty. Unpretentiously philosophical. Catnip for mystery hounds, NYC history buffs, prose snobs. Devoured it in two sittings."—Jennifer Senior, via Twitter

"Jonathan Lee is so enviably talented it leaves the reader breathless. The Great Mistake is an unparalleled feat of elegance and craftsmanship. Lee's 19th-century New York City is riveting, immersive, but best of all, it's an immaculate blend of scale: he masters both the grand historic narratives and gritty intimate details. As envisioned by Lee, the life of Green feels emblematic of the New York City he built: ambitious, fraught, thrilling, and ultimately visionary." —Stephanie Danler, author of Sweetbitter

"Jonathan Lee's wily, virtuosic, very beautiful new novel is an intimate portrait of a public man that also serves as an X-ray of America. The Great Mistake is a great novel of New York, in which the shaping of public space becomes inextricable from the loneliness, longing, and ferocious ambition of a single, damaged man." —Garth Greenwell, author of What Belongs to You

"Rich and riveting...A triumph of humane historical portraiture, and one of the finest and most pleasurable New York novels I have ever read." —LitHub

"Few writers working today have Jonathan Lee's range or eye for detail. Fewer still are capable of roaming minds and histories with such bittersweet, richly detailed ease, or taking on with such profound depth all the messy, hilarious, heartbreaking humanity of a person, and a time, and indeed an entire city. The Great Mistake is a wonder and a delight." —Téa Obreht, author of The Tiger's Wife

"A wonderful, compelling, finely-tuned and deeply loveable novel, with a central character who is all of those things too. Jonathan Lee has taken the bare facts of a nearly-forgotten life and turned them into a rich and unforgettable story, told with a relish for language and voice. Mr. Andrew Haswell Green now has permanent lodgings in my brain, and very welcome he is too." —Jon McGregor, author of Reservoir 13

"A big, delightful look at money, power, and the painstaking work of changing the world."—Town & Country

"An exceptional work of historical fiction about one of the key figures in the development of 19th-century New York City...A highly satisfying mix of mystery and character portrait, revealing the constrained heart beneath the public carapace."—Kirkus Reviews (starred)

"Audacious...Lee sustains a captivating strangeness in his depiction of the period." —Publishers Weekly

"The Great Mistake is a great novel of 19th-century New York and the meaning of success, which makes the quietest moments of its hero's life as memorable as the bordellos and the murders. A magical escape from the 21st century that sent me back feeling wiser and more hopeful." —Sandra Newman, author of The Heavens
 
"Like Denis Johnson's Train Dreams and John Williams' Stoner, Jonathan Lee peels back a forgotten layer of history to investigate longing and loneliness in the shape of a single man. The Great Mistake joins the ranks of Sarah Perry's novels, and Colm Tóibín's The Master, in lighting up the past, recreating Old New York—like Francis Spufford's Golden Hill—with an exuberance that transcends mere history. It is a remarkable book, a herculean construction that will prove lasting." —Katy Simpson Smith, author of The Everlasting

"A stunning new novel." —The Times (London)

"Captivating...Lee takes the murder as a jumping off point, diving into Green's interior life with tremendous skill, telling an unforgettable story about the parallel construction of an identity and a metropolis." —CrimeReads

"The author takes us on quite a ride and his vivid writing never wavers . . . This mystery—and Green—will live with you for a long time. The character studies in this book are cleverly detailed, even wondrous."—Mims Cushing, Florida Times-Union

"A novel of longing and great beauty, sharply observed comedy and keen mystery . . . Lee tenderly explores Green's life, which is almost as puzzling as his death . . . There is much to enjoy in the novel's rich depiction of the city. Its greatest achievement, though, is its tactful evocation of how it might have felt to love in a way that cannot even be safely acknowledged to oneself."—Sarah Ditum, Spectator

"A heartfelt read that's hard to put down . . . Profound . . . Engaging . . . Comical . . . It's hard not to find pleasure in witnessing the excitement of New York in this book, as our real New York now reopens . . . The Great Mistake offers hope for change and growth within a city, but more importantly, within humanity."—Carissa Chesanek, Brooklyn Rail

"Lushly detailed...Vividly realized...Lee sparkle[s] as a novelist." —Booklist

"Give this entrancing story of an exceptional man to novel-reading fans of Erik Larson and those who enjoy a little mystery with their historical fiction." —Library Journal

"The Great Mistake entertains with its endless invention and its parallels to the personal and political challenges of contemporary society." —Pittsburgh Post-Gazette

"Hugely entertaining." —The Independent (UK)

"A stylish, finely wrought mashup of mystery and history." —Daily Mail (UK)

"Lush and memorable...Both a fully formed biopic and a deeply personal account...A moving tale of loss, hope, and accidental murder." —The Big Issue (UK)