Otherland: Sea of Silver Light (Mass Market)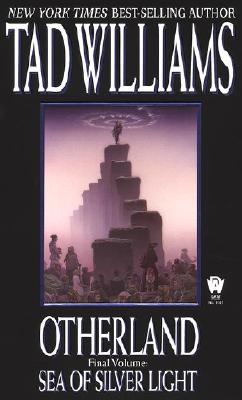 $9.99
Email orders@greenlightbookstore.com for information about this item.
Description
---
Now in trade paperback, the fourth and final book in the classic, genre-bending cyberpunk Otherland quartet from a master fantasist.

A group of adventurers searching for a cure for comatose children find themselves trapped in a sequence of virtual worlds, the only opponents of a conspiracy of the rich to live forever in a dream. Now, they are forced to make an uneasy alliance with their only surviving former enemy against his treacherous sidekick Johnny Wulgaru, a serial killer with a chance to play God forever.

Few science fiction sagas have achieved the level of critical acclaim and best-selling popularity as Tad Williams's Otherland novels. A brilliant blend of science fiction, fantasy, and technothriller, it is a rich, multilayered epic of future possibilities.
About the Author
---
Tad Williams has held more jobs than any sane person should admit to—singing in a band, selling shoes, managing a financial institution, throwing newspapers, and designing military manuals, to name just a few. He also hosted a syndicated radio show for ten years, worked in theater and television production, taught both grade-school and college classes, and worked in multimedia for a major computer firm. He is cofounder of an interactive television company, and is currently writing comic books and film and television scripts as well. Tad and his family live in London and the San Francisco Bay Area. You can find Tad Williams at tadwilliams.com.
Praise For…
---
Praise for the Otherland series:

"Tad Williams is the brightest and best of the fantasists working in what is so often, and so inaccurately, described as 'the tradition of J.R.R. Tolkien'." ―Neil Gaiman, author of American Gods

"Irresistible characters, challenging ideas, an intricate, and startlingly possible plot―everything any reader of SF or fantasy could ask for in a novel, with gorgeous writing besides. A dazzling book." ―Melanie Rawn, author of Dragon Prince

"This brilliantly crafted book delivers even more than its title promises: not one other land but many come to life here, each engrossing, glittering, and dangerous. In this intricate geography of the mind Williams tells a cracking good story, but even as the suspense builds, you come to realize that you're seeing a strangely familiar world―ours as it might come to be. Otherland is one of the best works of science fiction I've ever read." ―Kathrine Kerr, author of the Dragon Mage series

"Williams creates a rewarding, satisfying reading experience that is part thriller, mostly fantasy, and always creative. Readers must be familiar with the other three Otherland volumes before attempting this one." ―VOYA

"This stunning finale to the gigantic Otherland tetralogy, a brilliant fusion of quest fantasy and technological SF, is sure to please Williams's many fans." ―Publishers Weekly

"In this amazingly orchestrated final volume, Williams weaves together all the elements of his multiple storylines, culminating in the perfect ending. If you've missed the first parts of the Otherland saga, go back and start at the beginning―it will captivate you." ―Books in Review

"Strongly written, finely characterized, masterfully plotted, and above all consistently intelligent in its examination of self and story, real and virtual, and the blurred boundaries in between, this series stands as a major achievement, and should cement Williams' reputation as one of the most accomplished authors now working in the field." ―SF Site