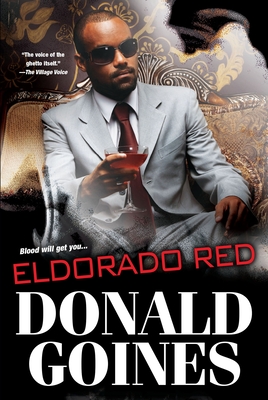 $15.00
Email orders@greenlightbookstore.com for information about this item.
Description
---
Based on the author's own personal experience of heroin addiction when he was discharged from the Air Force, this fast-paced, fast-talking novel takes us straight to the heart of ghetto life with all its fear and hatred.

When Donald Goines was discharged from the Air Force, he was addicted to heroin. To support his habit, he staged the robbery of a local numbers house. And from that experience came Eldorado Red. It's the vicious story of crooks who get richer with the dollars of the ghetto poor. He's got it knocked: new cars, mellow women, and plenty of money. Then he learns that treachery falls at the feet of his own son!

"All those [other black] writers, no matter how well they dealt with black experience, appealed largely to an educated, middle-class, largely white readership. They brought news of one place to the residents of another. Goines' novels, on the other hand, are written from ground zero. They are almost unbearable. It is not the educated voice of a writer who has, so to speak, risen above his background, it is the voice of the ghetto itself." —Michael Covino, The Village Voice
About the Author
---
Donald Goines was born in Detroit, Michigan. He joined the U.S. Air Force instead of going into his family's dry cleaning business. Following his service, he entered into a life of drug addiction and crime. He received seven prison sentences, serving a total of over six years. While he was in prison, Goines wrote his first two novels, Dopefiend: The Story of a Black Junkie and Whoreson: The Story of a Ghetto Pimp. Goines was shot to death in 1974.