The Rise of Horses: 55 Million Years of Evolution (Hardcover)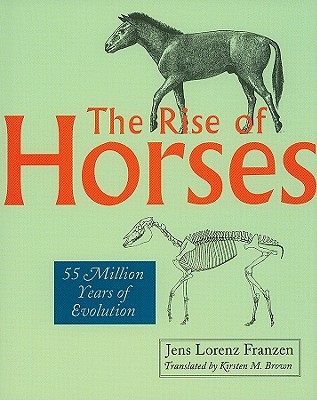 $70.00
Email orders@greenlightbookstore.com for information about this item.
Description
---
One of the world's leading experts on horse evolution traces the origins, evolution, and diversification of the equines.
Long domesticated, related to rhinoceroses, and descended from a creature the size of a hare, horses are a fascinating study in evolution. Jens Franzen's account explores the early evolution and eventual diversification of horse anatomy to explain how and why these once widespread and varied mammals became the common horses, zebras, and asses we know today. Beginning with their evolutionary rise roughly 55 million years ago, Franzen traces a history etched in fossils. He explains how improving body construction and energy balance allowed some horses to enter and thrive in new environments while others failed and became extinct. In presenting this story, Franzen hews closely to the Frankfurt theory of evolution and explains how it applies to the wide variations in the evolution of horse species.
Accessibly written and featuring full-color photographs and illustrations throughout, The Rise of Horses is the complete chronicle of the evolution of the equids.
About the Author
---
Jens Lorenz Franzen is the former head of the Department of Paleoanthropology and Quartenary Paleontology at Senckenberg Natural History Museum in Frankfurt, Germany. He has published hundreds of articles on fossils and evolution and is widely recognized as a leading expert on horse evolution.