Supercool Paper Airplanes Kit: 12 Pop-Out Paper Airplanes Assembled in About a Minute: Kit Includes Instruction Book, Pre-Printed Planes & Catapult Launcher (Mixed media product)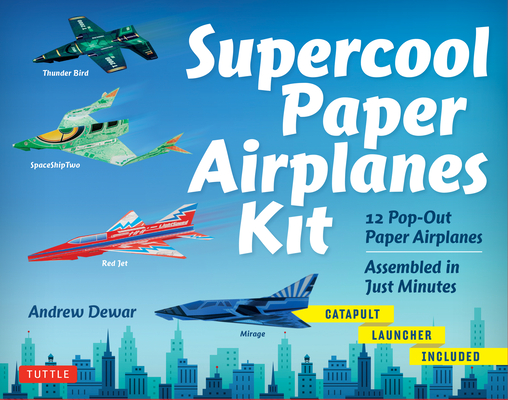 $14.95

Not In Store / Available To Order (allow for shipping time to bookstore or direct-to-home)
Description
---
This supercool paper airplanes kit contains the best planes you have ever seen!
These 12 paper planes are easy to build—you merely pop-out the paper parts, fold where indicated, and staple them. Then the fun begins! The sturdy rubber band catapult in the kit launches the planes straight up in the air, above the treetops—from where they glide gracefully back down to earth.
Awesome paper planes include:
The sci-fi inspired Thunder Bird is a technological marvel and an incredibly simple plane to assemble!
The colorful Dragonfly has a unique 4-wing structure—highly unusual for a paper airplane!
The high-tech Space ShipTwo has a fuselage just like the real-life Virgin Galactic rocket ship.
Unlike other origami airplanes, these are ready to go in under a minute, with no messy glue or tape required! A full-color instruction book provides clear information about each model and tips on how to fine-tune the planes to get better performance.
Supercool Paper Airplanes Kit's
ingenious designs—made with special paper and designed for perfect weight distribution and long-lasting flights—are perfect for kids and adults alike.
Head right outdoors with this collection and have many hours of high-flying fun!
About the Author
---
Andrew Dewar was born in Toronto, Ontario, and graduated from Ryerson Polytechnic Institute (B.A. Journalism) and University of Toronto (M.A. Japanese Studies, Library and Information Science) before moving to Japan in 1988. After completing his doctoral studies in library science at Keio University, he joined the faculty of a junior college in Japan. Soon after arriving in Japan he rediscovered his childhood love of designing and flying paper airplanes, after renewing contact with Yasuaki Ninomiya (creator of WhiteWings), with whom he had corresponded as a child. His passion for paper airplanes led him to become president of the Fukushima Paper Airplane Club. Dewar's first book was published in 1998, in Japanese. To date, he has published almost 30 books, half in Japanese and half in English, including Simple Origami Airplanes Kit, High-Performance Paper Airplanes Kit, One Minute Paper Airplanes Kit, Ultimate Paper Airplanes for Kids and many other paper crafting books and kits. His interests have expanded beyond paper airplanes to other forms of paper engineering including origami, karakuri toys that move in interesting ways, a planetarium, working astronomical instruments, dinosaurs, and much more. He also teaches paper airplane workshops and does seminars at schools, libraries, community centers, and museums, for people of all ages: children, families, and seniors. He lived and taught library science in Fukushima, Japan, until the giant earthquake and nuclear accident in March 2011, when the city became unsafe. After a brief stay in Canada, he's returned with his family to Gifu, Japan.

Kostya Vints was born and raised in Minsk, Belarus. In 1995 He received his Master degree in Product Design at Belorussian Polytechnic Academy (Minsk, Belarus). After moving to Los Angeles in 1997, he continued to pursue his career as a graphic artist and in 2002 Kostya graduated from Westwood College of Technology with an Associate degree in Graphic Design and Multimedia. He has been creating digital art for over 13 years. Kostya has produced illustrations and conceptual art for a diverse array of companies and publications worldwide.
Praise For…
---
"You simply read the general directions at the beginning of the book, choose the plane you'd like to make, punch it out and put it together." —CastleViewAcademy.com