Flying Dragons Paper Airplane Kit: 48 Paper Airplanes, 64 Page Instruction Book, 12 Original Designs, Youtube Video Tutorials (Other)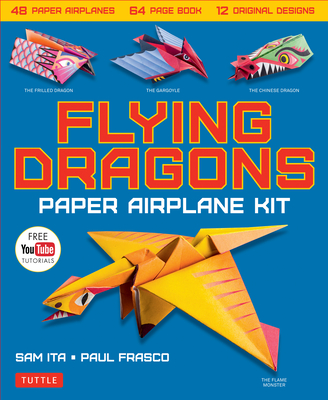 $14.99

Not In Store / Available To Order (allow for shipping time to bookstore or direct-to-home)
Description
---
Fill the skies with your very own collection of colorful 3D dragons This paper airplane kit features a fabulous variety of dragon-themed paper planes--each with a unique form and flight characteristics. This box contains everything you need to create 48 exciting flying dragons in 12 different sizes and designs. The full-color instruction book provides step-by-step folding instructions for each model and dragon mastery tips to help you coax the best performance from each airplane. Folding these fun and challenging planes is a great activity for brain gymnastics
This kit includes 12 exciting dragons that look and fly like their mythological namesakes, including:
The Chinese Dragon, a front-weighted dart that covers distance at an alarming rate
The Fighter Dragon, a fanciful dinosaur-cyborg warplane
The Swoop Dragon, an aerobatic performer that can turn on you if you're not careful
The Flying Shark, a menacing glider that patrols the skies in search of its prey
And many other impressive flying dragons
This paper airplane kit includes:
48 paper airplane folding sheets
Two different sizes (6.75 x 9.5 and 6.75 x 6.75)
A 64 page full-color instruction book
12 original dragon-themed paper airplane designs
**Winner of Creative Child Magazine 2018 Book of the Year Award**
About the Author
---
Sam Ita's fascination with paper airplanes began at an early age. He apprenticed for five years with Robert Sabuda and Matthew Reinhart on bestselling pop-up titles including America the Beautiful and Encyclopedia Prehistorica, and on Christmas cards for the Museum of Modern Art. His creations include Christmas Tree In-a-Box, Van Gogh's Sunflowers In-a-Box, The Odyssey, Moby Dick, 20,000 Leagues Under the Sea and Frankenstein. He lives in Brooklyn, New York. Paul Frasco is an origami designer focused on expressive animal and fantasy designs boasting fun and accessible folding sequences. Paul's design aesthetic is influenced by modern origami greats like Robert Lang and the late Eric Joisel. The scale of Paul's work ranges from diminutive pieces folded from a single sheet of standard origami paper to oversized pieces--including one folded from a single 18' x 18' sheet of paper for installation at Stony Brook University's Wang Center for Asian Studies. He has been featured in public spaces, museums, libraries and galleries around the US. Paul co-authored Creative Origami and Beyond.