Handbook of Mammals of the South-Central States (Hardcover)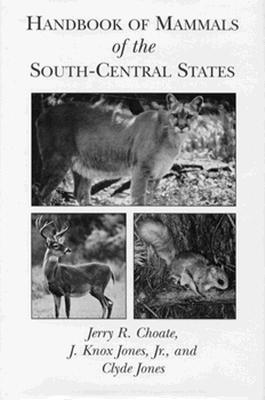 $55.00

Not In Store / Available To Order (allow for shipping time to bookstore or direct-to-home)
Description
---
Authoritative yet easy to use, Handbook of Mammals of the South-Central States will be a close companion of field biologists and a ready reference for the naturally curious. Containing a wealth of information about mammalian wildlife in Alabama, Arkansas, Georgia, Kentucky, Louisiana, Mississippi, and Tennessee, the book describes in detail ninety-five native mammals and eight introduced species that live in that region.
The south-central United States is both diverse and complex ecologically, including within its range coastal and inland swamps, mountain peaks, forests, grasslands, sand dunes, and rich agricultural lands. In the books' introduction, the authors describe those environments--their physiography, drainage patterns, climates, soils and vegetation--and explain how they determine which species can exist there. They also discuss other facts--such as geographical history, competition between species, and the effects of man--that determine which species actually do occur in a particular area.
The authors furnish a checklist of the 103 mammals, arranged in phylogenetic sequence, with keys to identifying the orders, families, and species. An up-to-date account of each species follows, supplying details about the animal's distribution throughout the seven states; its physical description, including seize, color pattern, and features distinguishing it from related species; and its natural history, including preferred habitat, diet, activity patterns, resting or nesting sites, reproduction, and population densities. A photograph, distribution map, and list of selected references complete each account.
Handbook of Mammals of the South-Central States is the first comprehensive guide to focus on this region's mammalian fauna. Students will appreciate its accessible format, glossary of terms, index to scientific and vernacular names of the mammals, and selected bibliography. Amateurs and professional naturalists alike will rely on it to identify mammals in the field, laboratory, and classroom.
About the Author
---
Jerry R. Choate is professor of zoology and director of the Sternberg Museum of Natural History at Fort Hays State University. He is joint author of Guide to Mammals of the Plains States and coeditor of Seventy-five Years of Mammalogy (1919--1994).J. Knox Jones, Jr., until his death in 1992, was Paul Whitfield Horn Professor of Biological Science and Museum Science and curator in The Museum of Texas Tech University. He was joint author of Handbook of Mammals of the North-Central States, Guide to Mammals of the Plains States, and Mammals of the Norther Great Plains.Clyde Jones is professor of biological sciences and curator of mammals in The Museum at Texas Tech University. He is joint author of Mammals of the Norther Great Plains and Mammals of New Mexico.