Color: A Natural History of the Palette (Paperback)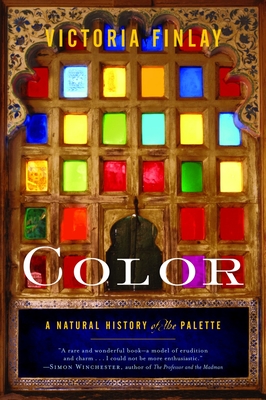 $18.00
Available In Store Now (while supplies last)
This book is a bit of craft writing, secret history, and geology behind every classic pigment of the painters' palette. It's fascinating content that lasts in the mind, written with a light touch perfect for a summer full of museum visits. I read this one in art school, despite all the other reading I had to do, and it still informs how I look at a painting.
Picked by Emily in Fort Greene
Description
---
Discover the tantalizing true stories behind your favorite colors.
For example: Cleopatra used saffron—a source of the color yellow—for seduction. Extracted from an Afghan mine, the blue "ultramarine" paint used by Michelangelo was so expensive he couldn't afford to buy it himself. Since ancient times, carmine red—still found in lipsticks and Cherry Coke today—has come from the blood of insects.
About the Author
---
A British citizen living in Hong Kong, Victoria Finlay has worked for Reuters and was the arts editor for the South China Morning Post for four and a half years before leaving to write this book. She writes regularly about arts and travel for Hong Kong newspapers and international media.
Praise For…
---
"This is a rare and wonderful book–a model of erudition and charm, the writing elegant and precise, and with at least one new and fascinating revelation on every single page. I could not be more enthusiastic."
–Simon Winchester, author ofThe Professor and the Madman

"Until I read this book, I was colorblind."
–Cynthia Rowley

"Color is the essence of landscape, of mood, of our whole perception of the physical world. Victoria Finlay has traveled through Iran, Afghanistan, and other places to investigate the origin of all those tantalizingly sensual ochers and reds and blues. What a creative idea for a book!"
–Robert D. Kaplan, author of The Ends of the Earth and Eastward to Tartary

"In this engaging travelogue, a rainbow of hues determined the author's choice of destinations. . . . By the time you read 'Violet,' you will have traversed much of the world, sharing Finlay's contagious fascination with color."
–Condé Nast Traveler

"Loaded with fascinating tidbits, this portrait of colors and their histories will provide readers with lots of conversation-starters."
—Boston Herald