Rocket Fantastic: Poems (Hardcover)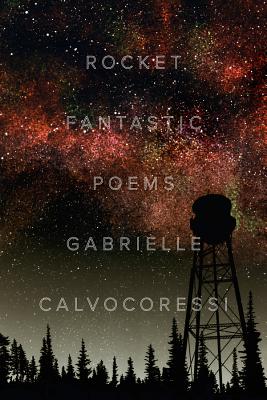 $25.95
Email orders@greenlightbookstore.com for information about this item.
Description
---
From the author of The Last Time I Saw Amelia Earhart, a spellbinding reinvention of self, family, and gender.
Like nothing before it,
Rocket Fantastic
reinvents the landscape and language of the body in interconnected poems that entwine a fabular past with an iridescent future by blurring, with disarming vulnerability, the real and the imaginary. Sorcerous, jazz-tinged, erotic, and wide-eyed, this is a pioneering work by a space-age balladeer.  
About the Author
---
Gabrielle Calvocoressi is the author of Apocalyptic Swing, The Last Time I Saw Amelia Earhart, and Rocket Fantastic. She is Associate Professor and Walker Percy Fellow in Poetry at the University of North Carolina at Chapel Hill, and an editor-at-large for the Los Angeles Review of Books.
Praise For…
---
Calvocoressi resists the limitations of language—especially where gender is concerned—to more fully capture the experience of a self "unlimited in its possibilities." The setting of her third collection is woodsy, nocturnal, and by turns sinister and merciful; where "it did get dark" enough to see the stars "but how bright it was." A range of characters compose a makeshift cast—or family—fluid enough to include a hermit, a cowboy, and a dowager. These poems balance wildness and control in a fearless treatment of eros, identity, trauma, and all that resists easy categorization. The voice encompasses the colloquial as well as the high lyrical: "Oak leaves so full of late summer// sun even I thought, Obscene, and stood stunned/ for a moment." When particular forms aren't up to the task of rendering something with tender and unflinching attentiveness, Calvocoressi reaches outside of poetry altogether: "Oh. It. Was. Beautiful. No metaphor will do."
— Publishers Weekly

In this follow-up to Apocalyptic Swing, a finalist for the Los Angeles Time Book Award, queer lesbian poet Calvocoressi uses the Dal Segno, a musical symbol directing the player to return to an earlier spot in the score, as a pronoun embodying "a confluence of genders" when referencing the Bandleader. There's a sense that the speaker wants to return to an earlier time, too, a throwback feel to the pastoral scenes she sets and a need to shuck convention. The speaker and the Bandleader meet in a series of poems strung throughout this thought-provoking collection, and the use of the Dal Segno immediately strips away expectation, making the focus on the acts of looking and touching rather than body parts interacting conventionally.

— Library Journal

A vertiginous, wondering, painful, uncannily and deeply sexy book: Rocket Fantastic offers an arresting array of characters, escapees from the loneliest country song and swivellers to a wild jazz. This is an original American poetry in tune with the oldest myths and the latest wounds... It is as if we have entered the green wood of traditional balladry- that charged, liminal space of encounter- without ever leaving a late twentieth/early twenty-first century America of war, debt, precarity, barbecues, radios, and guns. The humor, tenderness, rawness, gorgeous care and beauty here seem to me a new thing, a perfectly judged, mournful and joyful shimmering surprise.

— MAUREEN N. MCLANE

Gabrielle Calvocoressi's Rocket Fantastic is a mythic, personal journey through an inner constellation of self-discovery– a lyrical celebration that blends animal and insect into luminous landscape and lover-laced bow ties. This poet pivots between the sublime thicket of the sensual and the violence of the hunt in this pinpoint navigation of family, memory, and shine. Strap in. Stray not. Let yourself get loose and double on this riveting raft of poems, and you just might find a way home.

— TYEHIMBA JESS

Gabrielle Calvocoressi is one of those writers I love so much that I look at bookstores' shelves hoping she's written a new book. Now she has, and the pleasure of these new poems about gender, God, loss, joy, politics, love and the struggle for meaning in language and in this difficult moment in the United States are all here for us– and we're richer for it. Go find what's lush, what's troublesome, what's an invitation to your own path in this magnificent new collection.
— REBECCA SOLNIT

Gabrielle Calvocoressi's third collection, Rocket Fantastic, is a beautiful book which asks the reader to live in a world where gender and language are both fluid and linked together in a dance which swings, sways, and surprises at every turn.
— The Rumpus