Dead Run: The Murder of a Lawman and the Greatest Manhunt of the Modern American West (Paperback)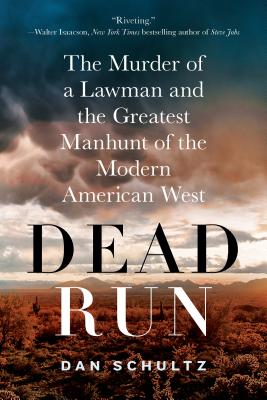 $19.00

Not In Store / Available To Order (allow for shipping time to bookstore or direct-to-home)
Description
---
Evoking Into the Wild and The Monkey Wrench Gang, Dead Run is the extraordinary true story of three desperado survivalists, a dangerous plot, a brutal murder, and a treacherous manhunt.

On a sunny May morning in 1998, three friends in a stolen truck passed through Cortez, Colorado on their way to commit sabotage of unspeakable proportions. Evidence suggests their mission was to blow up the Glen Canyon dam. Had they succeeded, the structure's collapse would have unleashed a 500-foot-high inland tsunami, surging across the American Southwest and pulverizing everything in its path—crashing through the Grand Canyon, overflowing Hoover Dam, washing away downstream communities and crippling the water supply of Las Vegas, Phoenix, Tucson, Los Angeles, and San Diego.

Instead, the truck was pulled over by an unsuspecting small town cop and the outlaws opened fire. After shooting him twenty times, they blasted their way past dozens of police cars and vanished into 10,000 square miles of the harshest wilderness terrain on the North American continent. The pursuit that ensued pitted the most sophisticated law enforcement technology on the planet against three self-trained survivalists. Seventy-five local, state, and federal police agencies; dozens of swat teams; U.S. Army Special Forces and more than five hundred officers from across the country followed the fugitives into a landscape only they could survive.

Nine years later the last of the fugitives was finally accounted for, but what really happened to them remained shrouded in mystery. The first in-depth account of this sensational case, Dead Run is replete with overbearing local sheriffs, Native American trackers, posse's on horseback, suspicion of police cover-ups, rumors of vigilante justice, and the blunders of the nation's most exalted crime-fighters pursuing outlaws against the unforgiving backdrop of the Utah wilderness.

More than a thrilling crime story, Dead Run is also an examination of the seductive allure of outlaw culture in the West and how it continues to inform national attitudes toward guns, authority and unfettered freedom. Exhaustively researched, Dead Run offers a stunning portrayal of an enduring Wild West landscape, where the American spirit is most boldly and confusingly, even tragically, lived.
About the Author
---
DAN SCHULTZ is an award-winning journalist and business writer. He received his M.A. in journalism from the University of Minnesota and worked as a reporter and feature writer for daily newspapers in Minnesota and Oregon covering crime stories before he began writing for magazines and television. Dan currently resides in Aspen, Colorado, where he assists his wife, Lynda, in managing the world-renowned independent bookstore Explore Booksellers. He is the author of Dead Run: The Murder of a Lawman and the Greatest Manhunt of the Modern American West.
Praise For…
---
"A wonderful crime thriller about an amazing manhunt, survivalist culture and the militia mindset that simmers below the surface in much of America. The result is both great social history and a riveting crime tale." —Walter Isaacson, NYT bestselling author of Steve Jobs

"Few have recollected the story of the largest manhunt in the West since Butch and Sundance with such significance. . . . Schultz transforms those police logs, newspaper accounts and personal recollections into a gripping page-turner that reads more like a mystery-thriller than a mere retelling." —Durango Herald

"Compelling. . . . Part of the great Southwest manhunt still remains a mystery, but Schultz sheds new light on what really happened." —Denver Post

"This well-drawn story about three contemporary desperadoes who might have been time-sprung from a previous century will have readers amazed by how close the actions and mores are to those of the Old West. . . . The three desperadoes are dead, their motives dead with them, but this manhunt story will keep the legend alive. " —Booklist

"Magnificent! Not only a thrilling page-turner, but a true crime story that evolves into a fascinating sociological exploration. I am hooked." —Martin Sherwin, Pulitzer Prize winning author of American Prometheus

"Dan Schultz has lit upon a dark and fascinating desperado tale. Part Monkey Wrench Gang, part No Country For Old Men... Dead Run promises to be a classic true-crime thriller of the Desert Southwest." —Hampton Sides, NYT bestselling author of Ghost Soldiers and Blood and Thunder

"Dan Schultz shows that book-length journalism can be as captivating as a fictional thriller." —Mark Seal, author of The Man in the Rockefeller Suit

"Dead Run is where horror, heroism, ongoing mystery, and the mythology and landscape of the West meet in a gripping and peculiarly American story." —William Loizeaux, Author of the NYT Notable Book Anna: A Daughter's Life