Young Leonardo: The Evolution of a Revolutionary Artist, 1472-1499 (Hardcover)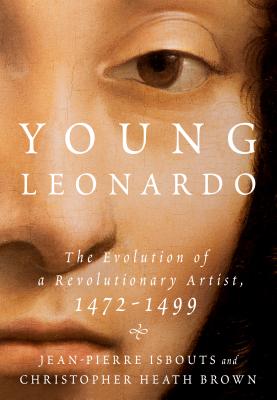 Email orders@greenlightbookstore.com for information about this item.
Out of Print / Unavailable
Description
---
Provocative and original, this fresh look at Leonardo da Vinci's formative years in Florence and Milan provides a radically different scenario of how he created his signature style that would transform Western art forever.

The traditional view of Leonardo da Vinci's career is that he enjoyed a promising start in Florence and then moved to Milan to become the celebrated court artist of Duke Ludovico Sforza. Young Leonardo presents a very different view. It reveals how the young Leonardo struggled against the prevailing style of his master Verrocchio, was stymied in his efforts to produce his first masterpiece in Florence, and left for Milan on little more than a wing and a prayer. Once there, he was long ignored by Duke Ludovico, and enjoyed only tepid Sforza support after his great equestrian project came to nothing. Meanwhile, all the major Sforza commissions went to artists whose names are now forgotten.

Isbouts and Brown depict Leonardo's seminal years in Milan from an entirely new perspective: that of the Sforza court. They show that much of the Sforza patronage was directed on vast projects, such as the Milan Cathedral, favoring a close circle of local artists to which Leonardo never gained entry. As a result, his exceptional talent remained largely unrecognized right up to the Last Supper. The authors also explore a mysterious link between the Last Supper and the fresco of the Crucifixion on the opposite wall, a work that up to now has fully escaped public attention. Finally, they present a sensational theory: that two long-ignored, life-sized copies of the Last Supper, now in Belgium and the U.K., were actually commissioned by the French King Louis XII and painted under Leonardo's direct supervision.

Young Leonardo is a fascinating window into the artist's mind as he slowly develops the groundbreaking techniques that will produce the High Renaissance and change the course of European art.
About the Author
---
DR. JEAN-PIERRE ISBOUTS is an acclaimed art historian, archaeologist and doctoral professor at Fielding Graduate University in Santa Barbara, California. His bestselling books on art and biblical archeology include National Geographic's The Biblical World, From Moses to Muhammad and The Archaeology of the Bible.

DR. CHRISTOPHER HEATH BROWN is an oral and maxillofacial surgeon whose experience in cosmetically and functionally reconstructing the faces of his patients enables him to analyze Renaissance portraits from a fresh perspective.
Praise For…
---
"Young Leonardo offers an exceptional insight in the gestation of Leonardo da Vinci as the leading artist of the High Renaissance."
— Dr. Bernard Luskin, chancellor, Ventura County Community College District

"In this meticulously researched and visually rich book, Jean-Pierre Isbouts and Christopher Heath Brown unravel a historical mystery—and come up with surprising results that will surely change our understanding of the evolution of Leonardo's most iconic work."
—Dr. Rich Appelbaum, Distinguished Research Professor, University of California at Santa Barbara

"Young Leonardo offers a wonderful journey into the wellspring of Leonardo's creativity and the incredible path to his achievements. A brilliant story well told."
—Dr. Frederick Steier, professor, College of Arts and Sciences, University of South Florida, Tampa

"Authors Isbouts and Brown bring alive the politics and intrigue of late fifteenth-century Italy and show how they influenced Da Vinci's early career. A deeply engaging and refreshing study, matched with a rich portrayal of the artist's character and motivations."
—Dr. Kerul Kassel, Sustainability Mindset Working Group, United Nations Global Compact

"Modern minds think of Leonardo da Vinci as a fully formed genius, in the same way they might imagine Mozart, Einstein, or Shakespeare. But this satisfying book upends that cozy claim. It takes a corrective look at Leonardo's first 27 years during which he was snubbed, struggled, and departed Florence thwarted and penniless. Duke Ludovico Sforza's reception in Milan was disappointingly tepid, and major commissions went to artists whose names are now forgotten."
—New York Journal of Books

"a recent discovery has led two authors to publish a book that has heads turning and minds changing…Regardless of where you fall on the argument, the book should be a fascinating read." —Andrew Webster, Fine Art Connoisseur