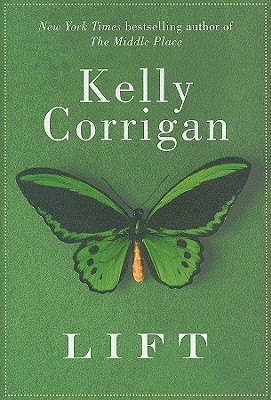 $17.00
Email orders@greenlightbookstore.com for information about this item.
Description
---
No matter when and why this comes to your hands, I want to put down on paper how things started with us. Written as a letter to her children, Kelly Corrigan's Lift is a tender, intimate, and robust portrait of risk and love; a touchstone for anyone who wants to live more fully. In Lift, Corrigan weaves together three true and unforgettable stories of adults willing to experience emotional hazards in exchange for the gratifications of raising children.Lift takes its name from hang gliding, a pursuit that requires flying directly into rough air, because turbulence saves a glider from "sinking out." For Corrigan, this wisdom--that to fly requires chaotic, sometimes even violent passages--becomes a metaphor for all of life's most meaningful endeavors, particularly the great flight that is parenting. Corrigan serves it up straight--how mundanely and fiercely her children have been loved, how close most lives occasionally come to disaster, and how often we fall short as mothers and fathers. Lift is for everyone who has been caught off guard by the pace and vulnerability of raising children, to remind us that our work is important and our time limited. Like Anne Morrow Lindbergh's Gift from the Sea, Lift is a meditation on the complexities of a woman's life, and like Corrigan's memoir, The Middle Place, Lift is boisterous and generous, a book readers can't wait to share.
About the Author
---
Kelly Corrigan is, more than anything else, the mother of two young girls. While they're at school, Kelly writes a newspaper column, the occasional magazine article, and possible chapters of a novel. She is also the creator of CircusOfCancer.org, a website that teaches people how to help a friend through breast cancer. Kelly lives outside San Francisco with her husband, Edward Lichty, and their children.
Praise For…
---
"Although we've never met, I love Kelly Corrigan like a friend. Her work gives me a rich sense of intimacy with someone who is full of life and hard-fought wisdom. She's hilarious, tender-hearted, tough, loyal, wild, and screwed-up--like all the coolest women I know."—Anne Lamott, author of Bird by Bird and Traveling Mercies

Praise for The Middle Place "Funny and irresistibly exuberant."—O, The Oprah Magazine

Praise for The Middle Place"Come for the writing, stay for the drama. Or vice versa. Either way, you won't regret it."—San Francisco Chronicle

Praise for The Middle Place "Plan to laugh, cry, and be consumed by Kelly Corrigan."—Winston-Salem Journal

Praise for The Middle Place "For two days I ignored my family while I devoured Kelly Corrigan's memoir. I spent a good part of that time crying, but mostly I was laughing . . . She captures our hearts and teaches us something new about family, love, and yes, even death."—Ayelet Waldman, author of Bad Mother and Love and Other Impossible Pursuits