Murder in the Bayou: Who Killed the Women Known as the Jeff Davis 8? (Paperback)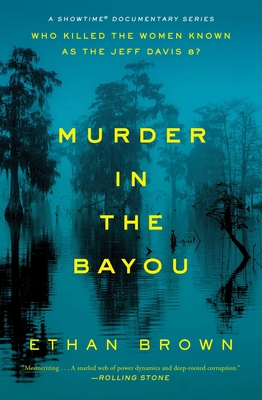 $17.99

Not In Store / Available To Order (allow for shipping time to bookstore or direct-to-home)
Description
---
A New York Times Bestseller & the Basis for the Hit Showtime Docuseries
A Southern Living Book of the Year

"Part murder case, part corruption exposé, and part Louisiana noir" (New York magazine), Murder in the Bayou chronicles the twists and turns of a high-stakes investigation into the murders of eight women in a troubled Louisiana parish.

Between 2005 and 2009, the bodies of eight women were discovered around the murky canals and crawfish ponds of Jennings, Louisiana, a bayou town of 10,000 in the heart of the Jefferson Davis parish. The women came to be known as the Jeff Davis 8, and local law enforcement officials were quick to pursue a serial killer theory, opening a floodgate of media coverage and stirring a wave of panic across Jennings' class-divided neighborhoods. The Jeff Davis 8 had been among society's most vulnerable—impoverished, abused, and mired with mental illness. They engaged in sex work as a means of survival. And their underworld activity frequently occurred at a decrepit no-tell motel called the Boudreaux Inn.

As the cases went unsolved, the community began to look inward. Rumors of police corruption and evidence tampering, of collusion between street and shield, cast the serial killer theory into doubt. But what was really going on in the humid rooms of the Boudreaux Inn? Why were crimes going unsolved and police officers being indicted? What had the eight women known? And could anything be done do stop the bloodshed?

Mixing muckraking research and immersive journalism over the course of a five-year investigation, Ethan Brown reviewed thousands of pages of previously unseen homicide files to posit what happened during each victim's final hours. "Brown is a man on a mission...he gives the victims more respectful attention than they probably got in real life" (The New York Times). Murder in the Bayou is the story of an American town buckling under the dark forces of poverty, race, and class division—and a lightning rod for justice for the daughters it lost. "A must-read for true-crime fans" (Publishers Weekly, starred review).
About the Author
---
Ethan Brown is an investigative journalist, private investigator, and author of four previous books, Murder in the Bayou, Queens Reigns Supreme, Snitch, and Shake the Devil Off, which was named one of the Best Books of 2009 by The Washington Post. He has written for New York magazine, The New York Observer, Wired, Vibe, The Independent, GQ, Mother Jones, The Guardian, Rolling Stone, Entertainment Weekly, Details, and The Village Voice. He has appeared on NPR, WNYC, Court TV, MSNBC, Hot 97, and BET to discuss drug policy, street crime, the music business, life in Louisiana, and other issues. He lives in New Orleans.
Praise For…
---
"Ethan Brown's daring and dangerous exposé uncovers a murky inferno of violence and corruption in south Louisiana, where it's hard to tell the good guys from the bad, and the brutal murders of eight prostitutes go unpunished, though not necessarily unsolved."—John Berendt, author of Midnight in the Garden of Good and Evil

"A deeply reported, and disturbing, true crime story that is as puzzling as it is intriguing. Ethan Brown's Murder in the Bayou raises as many questions as it answers, but never ceases to enrage. This is a book about power: those who wield it, and those who, tragically, fall victim to it."—Janet Reitman, contributing editor at Rolling Stone and author of the New York Times Notable Book Inside Scientology

"By way of Jefferson Davis Parish, Louisiana, Ethan Brown casts light on an America that many people would prefer to believe is not there. Murder in the Bayou reveals a complicated web of violence, poverty, drugs, and corruption--it's a brave feat of reporting."--Zachary Lazar, author of Evening's Empire: The Story of My Father's Murder

"Ethan Brown wades into the fetid political swamps of south Louisiana and emerges with a sordid yarn of sex, drugs and death. With a depraved and threatening cast of characters, Brown delivers a dogged, courageous inquiry into the murders of eight women. Even those accustomed to institutional corruption in the Pelican State will be shocked by this tale."—Doug J. Swanson, author of Blood Aces: The Wild Ride of Benny Binion, the Texas Gangster Who Created Vegas Poker

"Brown's writing is clear and approachable, and his research is meticulous...readers will be shaken by the unpleasant implications of a narrative bearing similarities to the first season of True Detective. Compulsively readable true crime provoking questions about policing, poverty, and the ritualized brutality of the rural South."--Kirkus Reviews

"Investigating what appeared to be a string of unsolved sex-murders that began in 2005, journalist Ethan Brown eventually uncovered a snakepit of small-town corruption in the bayou parish of Jefferson Davis, Louisiana. With its large cast of lost, doomed, and sinister characters, its dense atmosphere of menace and dread, and, at its center, a dogged reporter pursuing a mystery with the fearlessness of a pulp-fiction private eye, Brown's Murder in the Bayou is a stunning work of real-life Southern noir."--Harold Schechter, author of The Serial Killer Files

"Far truer than True Detective . . . part murder case, part corruption expose, and part Louisiana noir."--Boris Kachka, NYMag.com

"The depths of the corruption detailed in the book by Brown...will make your head spin for days after you finish reading it."--Uproxx

"[A] page-turning account...filled with vivid characters...startling and haunting."--Gambit Weekly

"Doggedly researched and sensitively observed."--Gothamist

"A gripping narrative that will revive curiosity about eight unsolved murders...Brown's spare but effective prose and measured analysis of the evidence makes this a must-read for true-crime fans."--Publishers Weekly STARRED review

"Damn near hard to put down."--Sarah Weinman, editor of Women Crime Writers and author of Among the Wholesome Children

"A complicated web of intrigue and murder and one that will haunt you long after you put the book down."--The Monroe News Star

"Explosive."--The Huffington Post

"Mesmerizing......a snarled web of power dynamics and deep-rooted corruption...symptomatic of a kind of system-wide brokenness that applies all over the country. ...Brown is able to show each individual victim as a real person, who is mourned and who couldn't be silenced as easily as their murderers seemed to think. "--Rolling Stone.com

"Sweeping, rigorously reported...the story has all the elements of a sordid Southern Gothic."--The New Orleans Advocate

"A real-life Southern Gothic story, Murder in the Bayou uncovers what became one of the most suspenseful and mysterious investigations of the decade."--Deep South Magazine

"Brown is a man on a mission...[he] is especially enlightening when it comes to this region... [he] gives the victims more respectful attention than they probably got in real life."--New York Times