Disney Villains: Delightfully Evil: The Creation • The Inspiration • The Fascination (Disney Editions Deluxe) (Hardcover)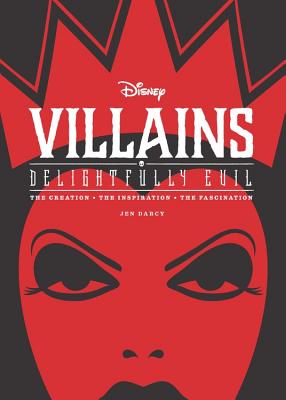 $40.00
Email orders@greenlightbookstore.com for information about this item.
Description
---
Disney Villains: Delightfully Evil is a comprehensive catalog showcasing cruel-intentioned characters from the past eight decades of Disney and Pixar films. Each villain is profiled in detail, including information on the animators, directors, and voice actors who brought the evildoers to life.
Fresh, insightful text explores the villains' origins, roles within their stories, and influences on pop-culture and is accompanied by cauldrons of illustrations, including rare concept art, story sketches, and archival photographs depicting the development of fandom's favorite baddies. This book is a bubbling witch's brew made with a dash of Gaston, a teaspoon of Sid Phillips, a sprinkling of Shere Khan, and a touch of Lady Tremaine. Won't you have a taste?
Searching for that perfect gift for the animation fan in your life? Explore more behind-the-scenes stories from Disney Editions:
The Art of Mulan: A Disney Editions Classic

Walt Disney's Ultimate Inventor: The Genius of Ub Iwerks

One Day at Disney: Meet the People Who Make the Magic Across the Globe

The Walt Disney Studios: A Lot to Remember

From All of Us to All of You: The Disney Christmas Card

Ink & Paint: The Women of Walt Disney's Animation

Oswald the Lucky Rabbit: The Search for the Lost Disney Cartoons, Revised Special Edition

The Art and Flair of Mary Blair: An Appreciation, Updated Edition

Illusion of Life: Disney Animation (By Disney Legends Frank Thomas and Ollie Johnston)

About the Author
---
Jen Darcy is the coauthor of two Disney Editions books, Disney in Details: A Scavenger Hunt Through the Walt Disney World Resort and Let The Memories Begin!: Impressions of the Walt Disney World Resort. She has been on staff at several Disney-owned magazines: FamilyFun, Disney Magazine, DisneyAdventures, and Wondertime. After receiving her master's degree in library science, she became a high school librarian and now manages copyright permissions and is the record librarian at an education publishing company. Jen's favorite villains are Ursula from The Little Mermaid and Shere Khan from The Jungle Book, which she enjoys watching at her western Massachusetts home with her cat, Bagheera.





Praise For…
---
"Disney Villains: Delightfully Evil . . . shows how both male and female antagonists were created, from early sketches to final renderings, including the stories of the voice talents that influenced animations and the challenges each character posed to the designers who brought them to life."—<strong>New York Magazine's The Cut</strong>

"I have studied animation, and I should be inured to its emotional manipulation. . . . I should be able to read Jen Darcy's Disney Villains—an authorized compendium of baddies from Walt Disney Animation and Pixar Animation Studios—with a cool, scholarly eye. . . . But Disney villains were not written to inspire detachment. . . . The villains were drawn to be hated: squinting, misshapen, with savage, menacing grins. They were 'unforgettable,' Darcy writes."—<strong>Washington Post</strong>

"It turns out each of the villains have very interesting backstories."—<strong>Nerdist</strong><div></div>

"This book is one part good concept, one part beautiful artwork, and one part thorough research all whipped together with fantastic execution."—<strong>San Francisco Book Review</strong>

One of "20 Books Every True Disney Fan Should Have in Their Collection"—<strong>POPSUGAR</strong>