Finding Meaning: The Sixth Stage of Grief (Paperback)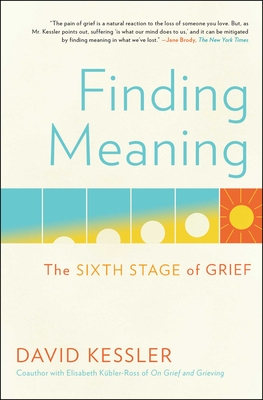 $17.99

Not In Store / Available To Order (allow for shipping time to bookstore or direct-to-home)
Description
---
In this groundbreaking and "poignant" (Los Angeles Times) book, David Kessler—praised for his work by Maria Shriver, Marianne Williamson, and Mother Teresa—journeys beyond the classic five stages to discover a sixth stage: meaning.

In 1969, Elisabeth Kübler-Ross first identified the stages of dying in her transformative book On Death and Dying. Decades later, she and David Kessler wrote the classic On Grief and Grieving, introducing the stages of grief with the same transformative pragmatism and compassion. Now, based on hard-earned personal experiences, as well as knowledge and wisdom gained through decades of work with the grieving, Kessler introduces a critical sixth stage: meaning.

Kessler's insight is both professional and intensely personal. His journey with grief began when, as a child, he witnessed a mass shooting at the same time his mother was dying. For most of his life, Kessler taught physicians, nurses, counselors, police, and first responders about end of life, trauma, and grief, as well as leading talks and retreats for those experiencing grief. Despite his knowledge, his life was upended by the sudden death of his twenty-one-year-old son. How does the grief expert handle such a tragic loss? He knew he had to find a way through this unexpected, devastating loss, a way that would honor his son. That, ultimately, was the sixth stage of grief—meaning. In Finding Meaning, Kessler shares the insights, collective wisdom, and powerful tools that will help those experiencing loss.

"Beautiful, tender, and wise" (Katy Butler, author of The Art of Dying Well), Finding Meaning is "an excellent addition to grief literature that helps pave the way for steps toward healing" (School Library Journal).
About the Author
---
David Kessler is the world's foremost expert on grief. His experience with thousands of people on the edge of life and death has taught him the secrets to living a fulfilled life, even after life's tragedies. He coauthored On Grief and Grieving and Life Lessons with Elizabeth Kübler-Ross and You Can Heal Your Heart: Finding Peace After a Breakup, Divorce or Death with Louise Hay. He is the author of Finding Meaning; Visions, Trips, and Crowded Rooms; and The Needs of the Dying, praised by Mother Teresa.

David's work has been featured in the New York Times, Los Angeles Times, Business Week, and Life Magazine, and on CNN, Fox, NBC, PBS, and CBS. David has served on the Red Cross Aviation Disaster Team and has volunteered for decades as a Los Angeles Police Department Specialist Reserve Officer. He lectures for physicians, nurses, counselors, police, and first responders and leads talks and retreats for those dealing with grief.
Praise For…
---
"Helping others is one way to heal; that's a message readers will find in Kessler's new book, [which] contains many messages about the nature of grief and how society supports, or doesn't, the basic human need to mourn…Finding Meaning is Kessler's poignant response to society's insensitivity, [a] how-to in the very best sense…With an accessibility reminiscent of author and neurologist Oliver Sacks, Kessler writes of how our brains are wired for grief — how survivors often become trapped in guilt and relive their loved one's final moments without remembering happier times too."
—Nick Owchar, Los Angeles Times

"Some people find meaning through belief in an afterlife; for others it comes from recalling fond memories of the loved ones they lost…The pain of grief is a natural reaction to the loss of someone you love. But, as Mr. Kessler points out, suffering 'is what our mind does to us,' and it can be mitigated by finding meaning in what we've lost."
—Jane Brody, The New York Times

"Excellent ... Anyone who has lost a loved one will find solace in Kessler's comforting words."
—Publishers Weekly, starred

"An excellent addition to grief literature that helps pave the way for steps toward healing."
—Library Journal

"Finding Meaning is a brilliant, caring, practical guide to help us understand grief and embrace this important "sixth stage" … David Kessler gifts us with deep insights and life-affirming wisdom that can support our well-being."
—Daniel J. Siegel, M.D., author of Aware, Mind, and Mindsight

"David Kessler's work with us was the first moment of healing that we felt after our daughter's death."
—Jayson Greene, author of Once More We Saw Stars

"David Kessler writes of a world that is rarely examined with such sensitivity. Now he has gone to an even deeper and more soulful place. He is a healer par excellence to others who are in pain."
—Marianne Williamson, author of Return to Love

"This beautiful, tender, wise book will help the many of us who struggle, for years or even decades, after losing someone we love. To take our pain and transmute it, and to find in our suffering a way of relieving the pain of others, can be a powerful form of healing. Whether our grief arises after a suicide, a difficult relationship, the death of a child or newborn, even the ambiguous losses that accompany mental illnesses and addiction -- David reassures us that we can find in our deep pain an opportunity to contribute to the wider human story. Grief may not end, but David reassures us that it can change shape and be a source of generosity, love and meaning. David Kessler shows us how. Soulful, warm, friendly, and clearly written, the fruit of much personal suffering and of David's years of professional expertise helping others. I only wish I'd had David's book soon after my mother's death. I will give it to others."
—Katy Butler, author of Knocking on Heaven's Door and The Art of Dying Well

"We have a choice to rise or fall after tragedy. David Kessler knows this all too well, both as a trailblazing expert on grief and as a bereaved parent. If you want to find purpose and meaning in your life after loss, you can't miss this book."—Tony Robbins, author of Unshakeable

"Grief is ultimately experienced by everyone. The sad truth is that loss leaves us not knowing what to do or to feel. David Kessler has provided us with a grief compass and a way to find meaning in loss. I will be going back and re-reading it for years to come."
—Denise Jablonski-Kaye, PhD, LAPD Police Psychologist

"David has eloquently articulated an essential component of living with grief: the ability to construct meaning out of tragedy. The book is filled with wisdom and heart, beckoning and inspiring readers to live their lives in harmony with their loved one's legacy."
— Fredda Wasserman, MA, MPH, LMFT, CT, Our House Grief Support Center