Llama Crafts: Packed Full of Inspiring Crafts and Templates (Creature Crafts) (Hardcover)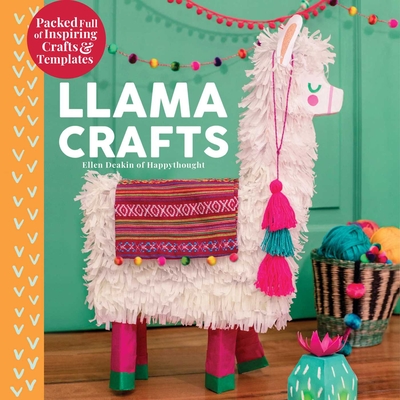 $19.99
Email orders@greenlightbookstore.com for information about this item.
Description
---
These Llamas are going to whisk you away to your happy place. This book has 15 projects that will inspire you and make you ready for your own Llamapalooza!
Boy and girls, parents and teachers, and crafters everywhere will get directions here on how to make:
Llama Papercraft ornaments
A Llama piñata
Llama wall prints
Llama finger puppets
Llama plushies
Llama T-shirts
Llama greetings cards
A llama bag
And more!
Both novice and expert crafters will enjoy this variety of projects. Each craft comes with a list of all the items and templates that you will need to create your llama-fueled fun. There's no shortage of ways that you'll be able to envision these dazzling Llama Crafts—the perfect activities for any adventurous Llama fan. Great for yourself or to give as gifts, but you'll probably want to make them for both… Get ready to leap for llamas!
About the Author
---
Ellen studied design at the Glasgow School of Art in a golden era when there were shiny new computers at one end of the hall and still an original letter press studio at the other. She went on to work in the UK as a graphic designer, illustrator and art director, working with clients such as BBC Scotland, Scottish Ballet, Channel 4, Playhouse Disney and Lupus films. In 2010, along with her husband Harry Olden, she launched Happythought, a craft website, full of inspiring ideas, tutorials and fun printable projects. At Happythought the emphasis is on producing craft templates that as well as being lovely to look at, are easy to make, with the minimum of fuss and the maximum of fun.</BiographicalNote>