Soul of the Hurricane: The Perfect Storm and an Accidental Sailor (Hardcover)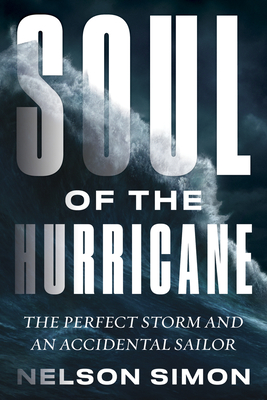 $27.99

Coming Soon - Available for Pre-Order Now
Greenlight is delighted to partner with local author Nelson Simon to offer signed copies of his book Soul of the Hurricane available for preorder now!
If you would like a signed copy and/or special inscription or personalization, you MUST indicate your request in Order Comments at checkout (or your order may be filled with an unsigned copy). Signed books will be ready for pickup or shipping around 10/29.
Description
---
"Soul of the Hurricane is a remarkable debut from a singular storyteller." —David Isay, Peabody Award–winning creator of StoryCorps

Nelson Simon didn't want to sign up as a last-minute crew member to transport a Norwegian schooner from Brooklyn to Bermuda. But one thing led to another, and there he was. He told himself that it would be a sort of pleasure cruise: a week in the Gulf Stream with a gourmet chef on board, some down time on a tropical island, then a quick flight home.

What did it matter that he had practically no sailing experience? The eight other crew members had plenty—they just needed an extra pair of hands. What could possibly go wrong?
 
It was October 1991, and the ship was Anne Kristine, the oldest continuously sailing vessel in the world. What awaited them was Hurricane Grace, the southern end of what came to be known as the "Perfect Storm."

Soul of the Hurricane tells an unlikely tale that begins with an unexpected invitation and ends in the dead of night somewhere far from home, with a Coast Guard helicopter above and a dark, angry sea below.
About the Author
---
Nelson Simonis a writer and performer. In 2006 he led a team of interviewers and facilitators from StoryCorps, the national oral history project, to New Orleans to chronicle the life of the city in the aftermath of Hurricane Katrina. In 2016 he created The Accidental Sailor, the storytelling performance on which this book is based. He lives in Brooklyn.
Praise For…
---
"In Soul of the Hurricane Nelson Simon has written an epic page turner. In turns thrilling and lyrical, Simon's book is a meditation on beauty, courage, and loss. It is a work infused with history and heart that envelops you in its many wonders. Soul of the Hurricane is a remarkable debut from a singular storyteller." —David Isay, Peabody Award–winning creator of StoryCorps 
 

"Soul of the Hurricane by Nelson Simon is a thundering memoir of extraordinary grace and character. Simon is a gifted wordsmith whose deft and concise writing style is the calm before the storm of a heart-pounding adventure that snatches the reader into a swirling rush of exhilarating emotion. This book is a well-paced masterpiece of great storytelling. Not of some heroic figure, but of someone like you or me. You are left with an awe of happenstance, and a wonder of how life unfolds as a mysterious cache of the unforeseen." —Bill Mosher, founder and producer of Visionaries on PBS

"With Soul of the Hurricane, accidental sailor Nelson Simon deftly weaves a compelling story about a "perfect storm" of powerful forces: Hurricane Grace, famed explorer Norman Baker, and the inexorable draw of the soul toward risk and adventure." —Amy Eddings, host/producer at Ideastream Public Media

"Nelson Simon's memoir reminds the reader that those who go down to the sea in ships are a complex and varied lot: skillful, determined, hapless, obsessed. Men and women who are at the mercy of accident and fate as surely as they are tossed about by wind and waves. Soul of the Hurricane is the kind of character-driven, storm-battered, seafaring yarn Joseph Conrad would have loved. Or written." —Alice McDermott, author of The Ninth Hour and Charming Billy, winner of the 1998 National Book Award for Fiction

"Readers who love sea adventures will revel in the drama of this very personal narrative." — Booklist