Freddie Mercury in New York Don't Stop Us Now! (Hardcover)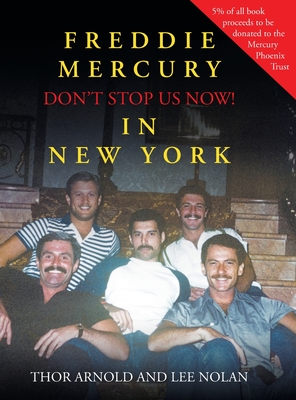 $45.95

Not In Store / Available To Order (allow for shipping time to bookstore or direct-to-home)
Description
---
The years 1980 until 1984, a time we call the New York days, are the final unknown piece of the jigsaw puzzle that was Freddie Mercury's life. (Rock superstar and always dynamic front man of Queen).
In fact, the movie Bohemian Rhapsody basically skipped over this important time of his life, moving from 1980 to 1984 in maybe fifteen to twenty seconds. My close friends Lee Nolan, Joe Scardilli, and John Murphy were eager to meet Freddie when he returned in 1981 after I had first met him in 1980. Freddie and his twenty-four-hour attendant and loyal friend, Peter Freestone, liked our group and wanted very much to be a part of it. At that time, many of New York City's residents and day-trippers from Long Island and New Jersey knew Queen's music but could not identify the band members. Freddie felt free and absolutely cherished this newly found and so-unavailable-in-Europe nonrecognition. He had recently grown a mustache, cut his hair short, wore jeans and tee shirts, and blended in perfectly with the gay culture in New York--we mostly all looked alike Freddie loved being just "one of the boys."
Unfortunately, John and Joe have passed on. Lee and I, however, continued the relationship beyond 1986 when we were invited several times to Freddie's beloved Garden Lodge in the heart of London. Lee was the constant photographer and has preserved a great many of these photos, which have never been seen prior to our book. One of the last things that Freddie repeated to Lee on our last visit, June 1991, was to "make these photos work for you, darling " You will see wonderful photos of Freddie, off the stage and participating in the real world. You will see fun and excitement in his face at every turn of the page.
Enjoy
Thor Arnold and Lee Nolan