Cold Cases: A True Crime Collection: Unidentified Serial Killers, Unsolved Kidnappings, and Mysterious Murders (Including the Zodiac Killer, Natalee Holloway's Disappearance, the Golden State Killer and More) (Paperback)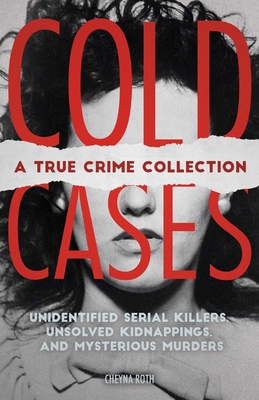 $15.95

Not In Store / Available To Order (allow for shipping time to bookstore or direct-to-home)
Description
---
Discover the fascinating true crime stories of JonBenét Ramsey, the Black Dahlia, the Isabella Stewart Gardner Museum theft, the Amber Alert case, the Cleveland Torso Murders, and more—a must-read for murderinos, armchair detectives, and online sleuths of all kinds!

From mystifying heists to shocking murders, Cold Cases: A True Crime Collection features case file facts, fascinating details, and chilling testimonies of the world's most famous cold cases. Written for true crime junkies who love to speculate on the facts and theories surrounding their favorite cases, this book reads like you're having a conversation with a friend or listening to your favorite crime podcast. Each chapter delves deep into the facts, while also illuminating the many theories surrounding these mysteriously fascinating cases:

- The Zodiac Killer
- The disappearance of Natalee Holloway
- The murder of JonBenét Ramsey
- The Isabella Stewart Gardner Museum heist
- The Kingsbury Run murders, aka the Cleveland Torso murders
- The Black Dahlia murder
- The Freeway Phantom murders
- D. B. Cooper's airplane heist
- The Amber Alert case (the death of Amber Hagerman)
- The Golden State Killer

About the Author
---
A recovering lawyer turned journalist, Cheyna Roth has a long-held fascination with crime and its evolution throughout history.

Following a stint as a prosecuting attorney, Cheyna became a journalist in 2016. She started her career as a political reporter for the NPR affiliate, the Michigan Public Radio Network and has been a guest on popular shows such as 1A, Here and Now, and All Things Considered. Cheyna moved on to print for a time as an investigative and environmental journalist for Michigan's MLive news outlet.

She is now a senior producer for Slate where she is the producer and frequent host of the gender and feminism podcast, The Waves. She also produces other shows for Slate, such as Political Gabfest and has worked on several podcast development projects for Slate.

Cheyna lives in Michigan with her husband and scrappy daughter. She is also the author of Cold Cases: A True Crime Collection, published with Ulysses Press.