Dungeons & Dragons Sticker Art Puzzles (Paperback)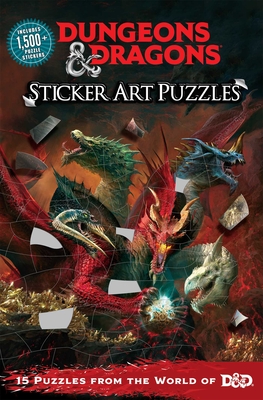 $15.99

Coming Soon - Available for Pre-Order Now
Description
---
These 15 sticker puzzles showcase ferocious monsters from the world of Dungeons & Dragons and are a great way to relax after an epic quest!

Wizards, clerics, rangers, and rogues everywhere will enjoy hours of puzzling fun in the world of Dungeons & Dragons while discovering fascinating facts about the mythical creatures that inhabit its lands. This bestiary's 15 sticker puzzles feature formidable creatures such as beholders, dragons, owlbears, and mind flayers, plus a few of the Forgotten Realms' most legendary adversaries. Each puzzle contains more than 100 sticker shapes to be fitted into a tessellated grid—as the stickers are put in place, a full-color artwork of a fantastical monster from the world of Dungeons & Dragons will emerge. When you're done, you'll have a spectacular glossy art poster to display on your wall!
About the Author
---
Thunder Bay Press is an imprint of Printers Row Publishing Group, a wholly owned subsidiary of Readerlink Distribution Services, LLC, the largest full-service book distributor to non-trade booksellers in North America. Thunder Bay publishes across a wide and varied range of formats and categories, from fun, interactive activity titles and kits on subjects such as origami, cooking, crafts, games, and art to reference books suitable for gift-giving in categories like art, fitness, pets, travel, history, culture, sports, and nature. Thunder Bay Press celebrates the book in all its forms, and publishes something for everyone. They're headquartered in San Diego.