Love, Only Better (Paperback)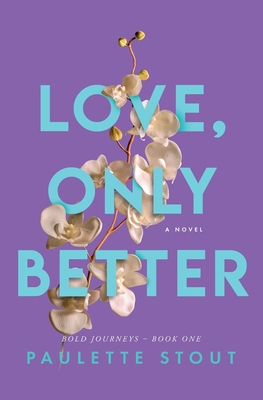 $15.99

Not In Store / Available To Order (allow for shipping time to bookstore or direct-to-home)
Description
---
WHAT HAPPENS WHEN THE ONLY THING HOLDING YOU BACK, IS YOU?
Rebecca was raised to be independent-handle her homework, graduate college, and dive into a rising advertising career. But there's a nagging problem she's never been able to shake. The same one that sends her boyfriend storming out the bedroom door.
Her doctor says she's fine, but what would he know? He wasn't the only 28-year-old woman in Manhattan who couldn't finish in the bedroom. For the life of her, she can't figure out what she's doing wrong. Her new doctor is unorthodox, but she's tried everything else. Well, everything except Kyle.
The gorgeous photographer who moves in across the hall is everything she isn't. He's confident, charming, and takes the world by storm from atop his black motorcycle. When they're together, her troubles melt away. Well, all but one.
When keeping secrets becomes impossible, Rebecca is forced to fight for the life she wants--or risk losing it forever.
Daringly honest and tenderly relatable, Love, Only Better explores a topic too long kept in the shadows: women's pleasure. Paulette Stout crafts an authentic and inspiring story that will leave you empowered and wanting more.
This book contains intimate scenes.
PRAISE FOR LOVE, ONLY BETTER
"I loved the feminism and the overdue mentions of women's basic needs. I definitely recommend this book." (NetGalley)
"If you're looking for a book with its heart open just waiting to draw you in, look no further. I really recommend it." (NetGalley)
"Paulette Stout deserves all the stars for bringing to the page a story that I haven't seen explore in fiction this way before." (NetGalley)
"The chemistry between Kyle and Rebecca had me on the edge of my seat. I definitely recommend this book." (NetGalley)
"At a time when women need their voices heard, you sing a beautiful song with this book." (Reader Review)
"Rebecca's journey is a story I've never encountered before and I read A LOT of books." (Reader Review)
"I thoroughly enjoyed it and read it in two days." (Reader Review)
"You took a difficult topic and made it a beach read." (Reader Review)
"I've fallen in love with Kyle." (Reader Review)
"Rebecca is such a great, multidimensional character." (Reader Review)
"I couldn't put it down." (Reader Review)
"I absolutely adore these characters." (Reader Review)