Healing Through Yoga: Transform Loss into Empowerment – With More Than 75 Yoga Poses and Meditations (Paperback)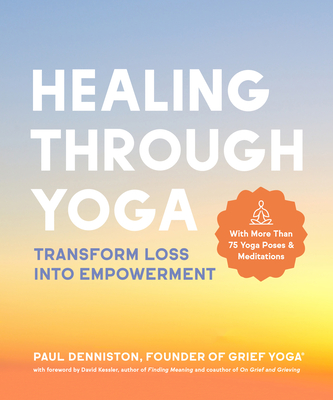 $19.95

Not In Store / Available To Order (allow for shipping time to bookstore or direct-to-home)
Description
---
For anyone who has suffered loss, a collection of meditations and poses for working through grief.
So often, we think that grief lives only in our hearts and minds. But what about the emotions that weigh us down and the grief that gets stuck in our body? Our emotions need motion, and 
Healing Through Yoga
 is a unique, simple, and powerful way of healing.
Grief Yoga founder Paul Denniston takes you through the stages of Awareness, Expression, Connection, Surrender, and Evolution with clear and compassionate instruction, poses, exercises with easy-to-follow photos, and meditations specifically designed to move you through that particular step. Learn how to release pain and suffering without expectation or judgment and reconnect to life, love, and strength. Even if you have never done yoga before, this heartfelt book can help you process your grief and use it as fuel for transformative healing and emotional release.
EXPERT AUTHOR: Paul Denniston is the founder of Grief Yoga, a program he created with David Kessler (co-author of 
On Grief and Grieving
) and tours worldwide, working with bereavement groups, cancer support centers, addiction and Alzheimer's groups, and individuals dealing with any kind of loss.
NOT JUST FOR YOGIS: Paul's audience is mostly made up of people who had never thought of yoga as a way to work through grieving. This practice is not as much about physical flexibility as it is about emotional liberation.
GREAT RESOURCE FOR HEALTHCARE PROFESSIONALS: Paul has taught this practice to thousands of therapists, counselors, and healthcare professionals around the world.
A NEW TOOL FOR ALL TYPES OF LOSS: Paul teaches these exercises to workshops dealing with all kinds of loss, including breakups, divorce, betrayal, bereavement, cancer, addiction, suicide, Alzheimer's, and more. This book can help with new and old losses and traumatic experiences that often go unattended.
Perfect for:
Yoga enthusiasts and beginners alike
Those focused on healing trauma or processing a loss
Adding to the shelf alongside Healing After Loss, On Grief and Grieving, Chair Yoga, The Body Keeps the Score, and Grief Day by Day
About the Author
---
Paul Denniston is the founder of Grief Yoga, which blends many forms of yoga, movement, and sound. He created Grief Yoga after working with yoga masters Gurmukh and Seane Corn, and with grief expert David Kessler, bestselling author and one of the world's foremost experts on healing and loss. Paul teaches bereavement groups, cancer support centers, and addiction groups. He has also taught Grief Yoga to more than 10,000 therapists, counselors, and healthcare professionals around the world; he also certifies other yoga teachers to teach Grief Yoga.
Praise For…
---
"So often, we think that grief lives only in our hearts and minds. Paul's work can help us understand that grief also gets stuck in our bodies. Our emotions need motion, and Paul has brought a unique, simple, and powerful way of healing to the world." --From the foreword by David Kessler
"The grief journey is unique to each individual, and often feels like an uncharted and overwhelming landscape to navigate. Healing Through Yoga provides a beautiful and compassionate roadmap, guiding us to move through the pain with presence, grace, and power in a way that maintains the body's health and facilitates healing." --Laura Berman, MA, MSW, PhD, award-winning host of Language of Love Podcast and bestselling author of Quantum Love 
"Paul Denniston provides a much-needed beacon to find hope and a healing path forward after the devastation of trauma and grief. Healing Through Yoga is truly a helpful companion no matter where you are in the process of loss." --Stephen Cope, founder of Kripalu Institute for Extraordinary Living and bestselling author of Yoga and the Quest for the True Self 
"Paul Denniston gently leads us through the cycle of compassionate transformation to break through the struggle and pain of grief and loss. He doesn't ask us to deny or white-wash our feelings but instead guides us to experience them and release them creating a safe, healing, and fearless path forward." --Rhonda Britten, author of Fearless Living and founder of the Fearless Living Institute
"Paul Denniston is brilliant and masterful at getting us to work grief out of our body. Healing Through Yoga is a must-have companion to all whose hearts are heavy with sorrow and grief." --Katherine Woodward Thomas, New York Times bestselling author of Conscious Uncoupling and Calling in "The One"
"Healing Through Yoga is a gentle and insightful guide to help release pain and struggle after even the most devastating losses and to feel and embrace hope. A timely and important book for the world we are living in today." --Micah Mortali, author of Rewilding, director of the Kripalu Schools, and founder of the Kripalu School of Mindful Outdoor Leadership
"Healing Through Yoga is an insightful guide to befriending our body and our grief. Through meditations and poses, Paul Denniston helps you to create a space to let go of tension and anxiety and find relaxation and peace within." --Joan Borysenko, Ph.D., author of the New York Times bestseller Minding the Body, Mending the Mind
"Healing Through Yoga offers a potent interactive approach to self-discovery, utilizing movement and mindfulness to acknowledge, replenish, and restore your heart and body after loss. Paul's gentle guidance will infuse you with safety, peace, and compassion as you navigate your own journey from grieving to healing." --Nancy Levin, bestselling author of Worthy and Setting Boundaries Will Set You Free
"Try Grief Yoga to release trapped emotions." —Los Angeles Times