Becoming the One: Heal Your Past, Transform Your Relationship Patterns, and Come Home to Yourself (Hardcover)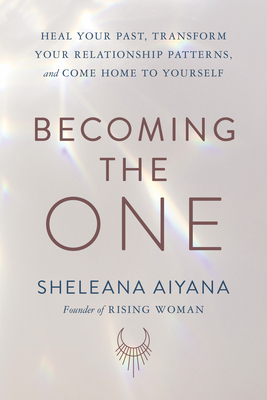 $27.95

Not In Store / Available To Order (allow for shipping time to bookstore or direct-to-home)
Description
---
AN INSTANT INTERNATIONAL BESTELLER​Spiritual writer and Rising Woman founder Sheleana Aiyana takes you on a transformational inner-work journey to heal lifelong relationship patterns and reclaim power over your life.
Romantic relationships can infuse our lives with the magic of intimacy and connection. But for many of us, that magic is fleeting—over and over, our relationships don't last, or if they do, they fail to make us happy. We find ourselves chasing unavailable love, sublimating our needs in service to others, or trying to save our partners from themselves, all the while abandoning the ones who need us most—ourselves.
If you find yourself struggling to let go after a relationship ends, or you keep hitting the same wall in dating and relationships with emotionally unavailable people, this is not a sign that you are broken. It is a sign that somewhere along the way, you learned to sacrifice yourself in order to be loved. In 
Becoming the One
, spiritual leader and visionary founder of the Rising Woman community Sheleana Aiyana offers a roadmap for transforming your relationship patterns to end the cycle of self-abandonment and move into the light of self-discovery.
The desire for love is wired into the very fibers of our being, but before you can create rewarding bonds with others, first you must stand wholeheartedly in self-acceptance. 
Becoming the One
 is an invitation to find your way home to yourself.
EXPERT ADVICE: Based on wisdom gleaned from the traumas of her past and years of guiding thousands of women around the world in her internationally acclaimed "Becoming the One" program of spiritual and therapeutic healing practices, Sheleana Aiyana's revolutionary lessons teach you to embody the qualities you are seeking in others so that you can become "the one" for yourself.
ESSENTIAL LESSONS: Learn to connect with your inner child, challenge your core beliefs about love, set self-affirming boundaries, discover and celebrate your true desires, recognize red and green flags, and build a secure, loving relationship with yourself. By learning how to trust your body and make peace with your past, you'll clear the path for healthy, conscious love—one that returns the authority to you to choose how to live and whom to love.
RAVE REVIEWS:
"This is a spectacular guide to the inner world and relationships; it dispels myths, grounds you in transformative truth, and reconnects you to your power."—Yung Pueblo,
New York Times 
bestselling author of 
Clarity Connection
"This masterpiece will take you from pain to freedom. Reading 
Becoming the One 
will help you understand the process and power of healing."—Nedra Glover Tawwab, 
New York Times 
bestselling author of 
Set Boundaries, Find Peace
Perfect for:
Anyone navigating a recent breakup or feeling fed up with dating
Fans of self-help and self-improvement books
Adding to the shelf alongside Women Who Run with the Wolves, Attached, Glennon Doyle's Untamed, or books by Esther Perel
About the Author
---
SHELEANA AIYANA is the founder of Rising Woman, a growing community of more than 3 million readers. Her training and immersion in couples facilitation, inherited family trauma, family systems, conscious relationship, somatic healing, and plant medicines inform her holistic approach to seeing relationship as a spiritual path. More than 30,000 women in 146 countries have taken her flagship program Becoming the One. She lives with her husband, Ben, on xw?nen'?č, the unceded land of the Hul'q'umi'num'-and WSÁNEC´-speaking Coast Salish peoples, now known as Salt Spring Island, BC.
Praise For…
---
"Becoming the One is an extraordinary gift that illuminates the path to wholehearted self-acceptance so that we can participate fully in the flow of human connection. The personal stories that the author shares about her own life are unforgettable and alone worth the price of admission. Sheleana Aiyana is a wise woman, a compassionate and clear-eyed guide, a visionary, and a teacher in the true sense of the word. I'd follow her up any mountain."
— HARRIET LERNER, PhD, New York Times bestselling author of The Dance of Anger and Why Won't You Apologize?
"Sheleana is one of those rare writers whose poetic wisdom touches deep into your soul. Her words will lead you back to yourself in a way that will feel more authentic than ever before. Enjoy this beautiful odyssey back to YOU."
— DR. SHEFALI, New York Times bestselling author of The Conscious Parent and A Radical Awakening
"Sheleana guides you on the journey of reclaiming yourself and defining your life. This masterpiece will take you from pain to freedom. Reading Becoming the One will help you understand the process and power of healing. Sheleana has created a must-read for people who seek to heal childhood wounds."
— NEDRA GLOVER TAWWAB, New York Times bestselling author of Set Boundaries, Find Peace
"Sheleana Aiyana has created a clear bridge between personal healing and improving our relationships. Becoming the One is for you if you want to live more fully and experience love at a greater level of harmony. This is a spectacular guide to the inner world and relationships; it dispels myths, grounds you in transformative truth, and reconnects you to your power."
— YUNG PUEBLO, New York Times bestselling author of Clarity Connection
"Becoming the One is a gift to every human being who's on their journey of healing and coming home to themselves. As you read this book, the poetry of the words seep past the walls of pain and defense and speak directly to the most vulnerable parts of yourself wanting to be seen and recognized. It's as though Sheleana is sitting next to you the whole time, lovingly saying 'I've got you, it's okay to release into your healing.' May all those who need this tender wisdom on their healing journey find their way to Sheleana Aiyana and this powerful book."
— DR. SCOTT LYONS, founder of The Embody Lab