How to Live: Boxed Set of the Mindfulness Essentials Series (Boxed Set)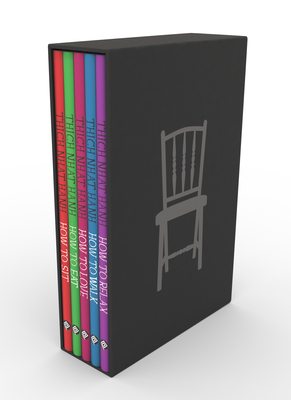 $49.75
Email orders@greenlightbookstore.com for information about this item.
Description
---
The five bestselling handbooks of Thich Nhat Hanh's Mindfulness Essentials Series, How to Sit, How to Eat, How to Walk, How to Love, and How to Relax, are collected together for the first time in a beautifully designed gift box. The box contains all five titles in their original trade paperback editions, each printed with a different highlight color.

The Mindfulness Essentials Series by Zen Master Thich Nhat Hanh will introduce beginners and remind seasoned practitioners of the essentials of mindfulness practice. The five books are pocket-sized with bold drawings by California artist Jason DeAntonis, each in a different highlight color. When the spines are lined up in this handsome gift box, the presentation is striking. The books provide explicit, simple directions for carrying out everyday activities with the focused awareness of mindful attention.

Every title in the series has appeared on each of the regional independent bestseller lists, and individual titles have appeared on The New York Times extended list, the NPR bestseller list, and others. The popular blog Brain Pickings has featured How to Love on its landing page for months, among Maria Popova's "favorite reads." She writes, "In accordance with the general praxis of Buddhist teachings, Nhat Hanh delivers distilled infusions of clarity, using elementary language and metaphor to address the most elemental concerns of the soul."
About the Author
---
Thich Nhat Hanh was a world-renowned spiritual teacher and peace activist. Born in Vietnam in 1926, he became a Zen Buddhist monk at the age of sixteen. Over seven decades of teaching, he published more than 100 books, which have sold more than four million copies in the United States alone. Exiled from Vietnam in 1966 for promoting peace, his teachings on Buddhism as a path to social and political transformation are responsible for bringing the mindfulness movement to Western culture. He established the international Plum Village Community of Engaged Buddhism in France, now the largest Buddhist monastery in Europe and the heart of a growing community of mindfulness practice centers around the world. He passed away in 2022 at the age of 95 at his root temple, Tu Hieu, in Hue, Vietnam.
Praise For…
---
The Mindfulness Essentials have appeared on the NPR Bestseller list, the San Francisco Chronicle Bestseller list, the Boston Globe Bestseller list, the LA Times Bestseller List and the extended New York Times Bestseller List. 

"The monk who taught the world mindfulness."
—TIME
 
"Thich Nhat Hanh shows us the connection between personal inner peace and peace on earth."
—His Holiness the Dalai Lama

"Thich Nhat Hanh is a holy man, for he is humble and devout. He is a scholar of immense intellectual capacity. His ideas for peace, if applied, would build a monument to ecumenism, to world brotherhood, to humanity."
—Dr. Martin Luther King, Jr.