The Essential Guidebook to Mindfulness Recovery for Family and Friends (Paperback)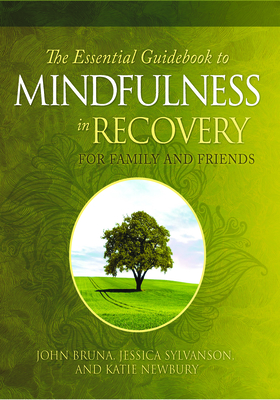 Description
---
A self-paced curriculum for families and loved ones of someone in recovery from addiction integrating mindfulness practices with the Twelve Steps.
A companion title tot he bestselling The Essential Guidebook to Mindfulness in Recovery, former Buddhist monk John Bruna and his team outline the seven skills for living mindfully in recovery--values, attention, wisdom, equanimity, compassion, loving-kindness, and action. Each skill has its own chapter with exercises and daily meditation practices.
If you care for someone in addiction recovery, this guidebook builds upon the tools introduced in Bruna's previous workbook to help you strengthen specific knowledge and skills to cultivate mindfulness in your daily life. Whether your loved one is in treatment or not, whether the people in your life are working on themselves or not, you can build awareness for yourself and create a safe place for your own healing and transformation. Using the lessons, meditations, reflections, and other daily practices in this book, you can consciously guide your life forward in the ways you choose based on your values.
About the Author
---
John Bruna is a counselor, educator, mindfulness and spiritual teacher. With humble and challenging beginnings, he grew up in a low-income environment, surrounded by drugs, alcohol, and violence. He has been in recovery since 1984. In 1992 he became Certified Alcohol and Substance Abuse Counselor in California, and in 2000 received a BA in History and Secondary Teaching Credential from California State University, Northridge. In 2005 he was ordained as a Buddhist monk in the Tibetan tradition through the Gaden Shartse Monastery in India. After more than six years of monastic life, John has returned to life as a layperson and in 2012 became a Certified Cultivating Emotional Balance Mindfulness Teacher via the Santa Barbara Institute for Consciousness Studies. Currently, John is the director of Way of Compassion Foundation and Co-Founder of the Mindful Life Program.Jessica Sylvanson has an MA in acupuncture and Chinese medicine with a thriving practice in the Colorado mountains. She is a committed member with 17 years of experience working 12-step programs consistently and over 10 years of experience studying mindfulness and Buddhist dharma. Jessica is thankful for 12-step programs and mindfulness practices and attributes her successes in relationships, work, and family life to the work she has done in both. She served for years on two non-profit Board of Directors for the Way of Compassion Foundation and Acupuncture Association of Colorado.Katie Newbury is a Mindful Life Program certified mindfulness teacher with a decade of 12-step experience in the co-dependency Fellowships. She is program leader for the Open Sky Wilderness therapy and an instructor in the National Outdoor Leadership School.