Written in Bone: Hidden Stories in What We Leave Behind (Paperback)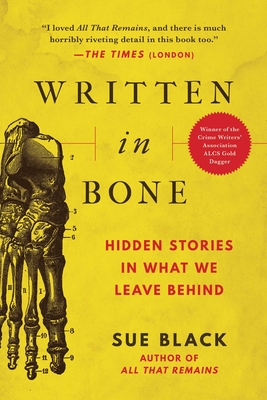 $18.99

Not In Store / Available To Order (allow for shipping time to bookstore or direct-to-home)
Description
---
Winner of the Crime Writers' Association ALCS Gold Dagger for Nonfiction—
A tour through the human skeleton and the secrets our bones reveal, from the author of All That Remains

In her memoir All That Remains, internationally renowned forensic anthropologist and human anatomist Dame Sue Black recounted her life lived eye to eye with the Grim Reaper. During the course of it, she offered a primer on the basics of identifying human remains, plenty of insights into the fascinating processes of death, and a sober, compassionate understanding of its inescapable presence in our existence, all leavened with her wicked sense of humor.
 
In her new book, Sue Black builds on the first, taking us on a guided tour of the human skeleton and explaining how each person's life history is revealed in their bones, which she calls "the last sentinels of our mortal life to bear witness to the way we lived it." Her narrative follows the skeleton from the top of the skull to the small bones in the foot. Each step of the journey includes an explanation of the biology—how the bone is formed in a person's development, how it changes as we age, the secrets it may hold—and is illustrated with anecdotes from the author's career helping solve crimes and identifying human remains, whether recent or historical. Written in Bone is full of entertaining stories that read like scenes from a true-life CSI drama, infused with humor and no-nonsense practicality about the realities of corpses and death.
About the Author
---
Sue Black, DBE, FRSE, is one of the world's leading anatomists and forensic anthropologists. She is president of St. John's College, Oxford and also the pro‑vice chancellor for engagement at Lancaster University. Her forensic expertise has been crucial to solving high‑profile criminal cases. She was the lead anthropologist for the British Forensics Team's work in the war crimes investigations in Kosovo, and she worked in Thailand after the 2004 Indian Ocean tsunami. She makes regular appearances on radio and television. She was appointed Dame Commander of the Order of the British Empire in 2016 and a crossbench peer in 2021. She lives in Scotland.
Praise For…
---
Winner of the Crime Writers' Association ALCS Gold Dagger for Nonfiction

"A fascinating overview of the human skeleton from the forensic anthropologist's point of view, with case studies that are both pertinent and entertaining."—Kathy Reichs, author of the Temperance Brennan Bones series

"Sue Black regales us with her greatest hits of forensic detective work. . . . Of course, the book is stuffed with corpses, leaking out of suitcases, stuffed in plant pots . . . But my eye was always drawn back to her. Her extraordinarily cool, authoritative, and bloody life leaks out at the sides."—Times (London)
 
"Black guides morbidly curious readers through baffling crime scenes, ancient crypts, and courtroom testimony to illuminate the body of evidence bones, even the smallest fragments, can offer to forensic investigators. . . . Enjoyable."—Booklist

"A humane, wise book."—Crime Writers' Association judges for the AALCS Gold Dagger for Non-Fiction Award

"In Written in Bone, Sue Black shows the positive side of science, specifically forensics, delving into the practice's application in criminal investigations. She also explains how each part of the human body tells scientists about the life of the person who once occupied it."—Publishers Weekly

"Revealing: about the human body, about the evil that men do, and—in brief, flinty asides—about herself."—Sunday Times (Scotland)

"Gripping from the start, Written in Bone is superb—fascinating in its detail of real-life cases and written with a narrative that propels you forward to the next page."—Dr. Richard Shepherd, author of Unnatural Causes

"A fascinating, down-to-earth depiction of the human skeleton and how our lives can be shown from our bones. The cases she includes are also interesting and real-life examples of how this detailed knowledge can help ensure justice—both for getting who dunnit as well as clearing who didn't."—dearauthor.com

"An absorbing read . . .  It is astonishing how much information even a fragment of bone may be capable of providing in the hands of a skilled forensic anthropologist. . . . The fascinating, sometimes disturbing, case examples . . . show just how important those details can be in an investigation."—Booked Out

"Our bones are the scaffold for our bodies, and they survive long after the skin, fat, muscle, and organs have dissolved back into the earth. They are designed to be robust, to hold us upright and to give us form, so it is logical that they should be the last sentinels of our mortal life to bear witness to the way we lived it."—Sue Black, from the introduction to Written in Bone

PRAISE FOR ALL THAT REMAINS
Book of the Year, Saltire Literary Awards
A CrimeReads Best True Crime Book of the Month

"With a disarming frankness . . . a multipronged approach to the topic of death, exploring it through scientific, sociological, historical, and philosophical lenses. . . . This is a perceptive study of a subject both deeply uncomfortable and uncommonly engrossing."—Publishers Weekly

"Black's testimony to the nobility of her calling is a welcome and compassionate look at death and the mysteries that shroud it."—Booklist

"Essential . . . an insightful, compelling, and often entertaining memoir about a life spent studying and reckoning with the dead and their secrets."—CrimeReads, "The Best True-Crime Books of the Month"

"Dame Sue Black . . . writes vividly about her job identifying human remains, the events in her life that led her to this career, and the reality of death in all of our lives."—Book Riot

"Dame Sue Black writes about life and death with great tenderness but no nonsense, with impeccable science lucidly explained, and with moral depths humanely navigated, so that we can all feel better about the path we must all inevitably follow."—Lee Child

"All That Remains provides a fascinating look at death—its causes, our attitudes toward it, the forensic scientist's way of analyzing it. A unique and thoroughly engaging book. "—Kathy Reichs, New York Times bestselling author

"No scientist communicates better than Professor Sue Black. All That Remains is a unique blend of memoir and monograph that admits us into the remarkable world of forensic anthropology. "—Val McDermid, award-winning and bestselling author

"Most of us are terrified of death, but Sue Black shows us that death is in fact a wondrous process, intimately tied with life itself. Written with warmth and humanity, All That Remains reveals her life among the dead, who can surely count her as their best friend."—Tess Gerritsen, internationally bestselling author

"This is one of those books that'll astound as it entertains. It's a little shivery and oh-so-fascinating. And in the end, All That Remains is a tale you can live with."—Marco Eagle (part of the USA Today network)

"Black is informative, respectful, easily accessible, and funny. This is perfect for anatomy nerds and CSI fans."—bethfishreads.com

"This fascinating look by a world-leading forensic scientist at what the dead can tell us is a real eye-opener. . . . Part meditation, part popular science, and part memoir . . . the book offers a close-up and startlingly clear view of a subject that makes most of us look away. . . . Extraordinary."—Sunday Times

"An engrossing memoir . . . an affecting mix of the personal and professional."—Financial Times

"A model of how to write about the effect of human evil without losing either objectivity or sensitivity. . . . Heartening and anything but morbid . . . Leaves you thinking about what kind of human qualities you value, what kinds of people you actually want to be with."—New Statesman

"Black's utterly gripping account of her life and career as a professor of anatomy and forensic anthropology manages to be surprisingly life-affirming. As she herself says, it is 'as much about life as about death.'"—Guardian

"The real thing here is not the cause of death, but the nature of the life. Black is genuinely moving about the respect we should have for the dead, . . . There is much to admire in this book." —Scotsman

"For someone whose job is identifying corpses, Sue Black is a cheerful soul. . . . All That Remains feels like every episode of Silent Witness, pre-fictionalized. Except, you know, really good."—The Times

"Poignant and thought-provoking . . . It is the book's humanity which will connect with readers." —Scottish Daily Mail

"Let [Sue Black] take you by the hand and lead you on a journey which will inspire your awe and devotion. . . . A wonderful surprise of a book."—The Tablet

"Sue Black has been intimately involved with the aftermath of death for her whole professional career, and in her book she weaves in details of her amazing and active life with her analysis of death in a narrative that is personal, touching, occasionally tragic, but also instilled with her wonderful sense of humour."—Dr. Richard Shepherd, consultant forensic pathologist