Why We Meditate: The Science and Practice of Clarity and Compassion (Hardcover)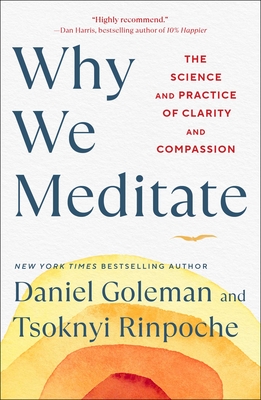 $27.99

Available In Store Now (while supplies last)
Description
---
A practical and soul-stirring guide to meditation that offers a much-needed antidote to the forces of stress that overwhelm so many of us—from the New York Times bestselling author of the "thoughtfully written, persuasive" (USA TODAY) Emotional Intelligence and renowned meditation teacher,​ Tsoknyi Rinpoche.

We all experience negative emotions from time to time. But in a world with as much frenzy and pressure as ours, it's incredibly easy for these same emotions to become destructive. Now, by blending Eastern tradition with Western science, Why We Meditate effortlessly helps you embrace and understand meditation as never before.

With accessible and eye-opening advice based on groundbreaking neuroscience, this guidebook helps you not only break free from negative patterns of thought and behavior but radically embrace your very being. Revolutionize your health, relationships, and soul with this book that is perfect for both serious meditators and those new to the practice.
About the Author
---
Daniel Goleman is the internationally bestselling author and coauthor of several books, including Emotional Intelligence, Focus, and Altered Traits. He was a science reporter for The New York Times, was twice nominated for the Pulitzer Prize, and received the American Psychological Association's Lifetime Achievement Award for his writing. He lives in the Berkshires. Find out more at DanielGoleman.info.

Tsoknyi Rinpoche is one of the most beloved teachers among the new generation of Tibetan Buddhist meditation masters. Widely recognized as an outstanding meditation teacher for over twenty-five years, he is the author of Open Heart, Open Mind; Fearless Simplicity; and Carefree Dignity. He has received accolades from prominent Buddhist teachers, including His Holiness the Dalai Lama. Find out more at TsoknyiRinpoche.org.
Praise For…
---
"Why We Meditate is an exciting new book that combines recent research into meditation with fresh, accessible and profound teachings on the actual practice. I consider Tsoknyi Rinpoche one of my beloved teachers and so wholeheartedly endorse any attempt to share his healing and liberating teachings with the world."
— Pema Chödrön, author of When Things Fall Apart

"Two giants team up for a kind of meditative buddy film— What's not to like? In this book, you'll get practical, doable techniques for making two game-changing inner moves: getting out of your head, as well as taming your demons with warmth rather than our habitual resistance, indulgence, and denial. The best part is that all of it is backed up by rigorous science. Highly recommend."
— Dan Harris, author of 10% Happier

"This remarkable book by meditation master Tsoknyi Rinpoche and science writer and longtime meditation practitioner Daniel Goleman is a rare and exquisite exploration of the art, science, and practice of meditation. Practical, wise, humorous, and an extraordinary resource, it is a book that the reader and practitioner will return to again and again."
— Roshi Joan Halifax, author of Standing at the Edge

"Why We Meditate is a rare blend of genuine, far-reaching meditative wisdom and the cutting edge neuroscience that both explains and supports it. Tsoknyi Rinpoche transmits these teachings with his characteristic depth of understanding, clarity of expression, and warm-hearted compassion, while Daniel Goleman contributes his decades-long familiarity with the Western exploration of the science of the mind. This book is an extraordinary collaboration and a great jewel that will benefit all who read it. Highly recommended."
— Joseph Goldstein, author of Mindfulness and A Heart Full of Peace

"Those looking for an accessible, jargon-free primer on meditation should check this out."
— Publishers Weekly

"An appealing, instructive mixture of Eastern spiritual practices and modern psychological research."
— Kirkus Reviews

"As valuable for skeptical or reluctant meditative practitioners as it is for experienced ones, this book is actionable, intentional, personal, and practical."
— Library Journal