Spiroglyphics: CN 40 greatest cartoon characters of all time - Spiroglyphics coloring book - New Kind of Coloring with One Color to U (Paperback)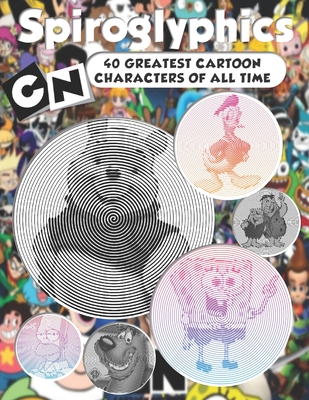 $7.50
Email orders@greenlightbookstore.com for information about this item.
Description
---
: warning: Important update: Listen feedback from the our dear audience, this book quality is decidedly improved with darker color, bold outline lines, and fixed misprints, so you can easy color without mistake.
No stress. No thoughts. No extra skills. This process of coloring could be compared with walking at a big distance when your brain is disconnected from vanity and is plunging into meditation.
Color with one color any of 40 amazing pictures on different characters, creativity, and funny.
At first, all you see are simple spirals. But when you look a little closer and start to color between the lines, you'll see your favorite characters take shape
Choose the quest color according to your mood. Listen to the radio, some music, some audio-book or enjoy your internal harmony while coloring.
Using dark shade colors of pen, pencil or marker is more preferable as it opens fancy quest and transforms it into a complete composition:
Color between the lines to reveal your favorite characters as art
Letter-size format and lightweight of this unique coloring book will add more fun to your travel.
★ The One Color series includes:
Vol. 1 - characters (about funny & adorable characters)
Vol. 2 - Landscapes (part 1) about romantic places, historical places, amazing "Must See" destinations...
Vol. 3 - Landscapes (part 2)
Vol. 4 - Portraits (Let's guess who?)
Vol. 5 - Wildlife
★ The Dots lines spirals coloring book series includes:
Dots Lines Spirals coloring book: 25 most popular Dog Breeds
Spiroglyphics: characters - Spiroglyphics coloring book - New Kind of Coloring with One Color
Dots Lines Spirals: Kittens Coloring Book for Adults
and so on..
Relax with just ONE COLOR
Very unique and exciting, as well as relaxing
BUY NOW